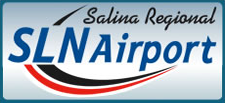 Air Traffic
The Salina Airport's air traffic count is made by air traffic controllers working in the Salina Airport Air Traffic Control Tower (SLN ATCT). Air traffic controllers record each take-off and landing as one aircraft operation. Aircraft operations at the Salina Regional Airport are comprised of air carrier, air taxi, general aviation and military operations. The SLN ATCT operates from 7:00 A.M. to 11:00 P.M. (local time) seven days per week.
Fuel Flowage
Fuel Flowage is a measure of all fuel delivered into aircraft at the Salina Regional Airport. Each month the Airport's tenants that are authorized to sell or deliver aviation fuel report their respective gallons delivered for the month just completed.
The Airport's FBO (Fixed Base Operator), Avflight Salina, sells aviation fuel to a wide range of customers that use Salina as a mid-continent fuel stop - in addition to locally based aircraft. Other locally based aircraft owners/operators, such as corporate flight departments and Kansas State Polytechnic, Department of Aviation, are authorized to self-fuel their own aircraft.
Enplanements
Passenger enplanements reports the total number of people who board scheduled air carrier flights at the Salina Regional Airport. All air carrier flights operate out of the M.J. Kennedy Air Terminal. 
Save time and money by Flying Salina