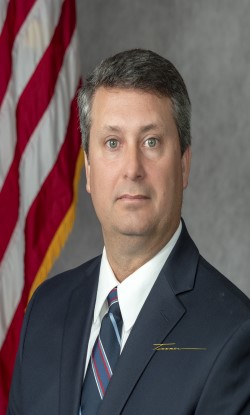 Maynard Cunningham
Director of Facilities and Construction
E-mail: maynardc@salair.org
As the Director of Facilities and Construction, Maynard Cunningham is responsible for managing nearly 900,000 square feet of existing manufacturing, warehouse, hangar and office space at the  Salina Regional Airport and Airport Industrial Center.   Management of existing facilities includes overseeing the maintenance and development of the facility structures and systems necessary to ensure the Authority's assets and infrastructure are well maintained and in compliance with applicable laws and regulations.
Cunningham's responsibilities also include overseeing design and construction activity for airport facilities and pavement projects. Cunningham joined the Salina Airport Authority staff in 2021 after 8 years as a product engineer and manager with Bergkamp, Inc.
Cunningham's work experience includes project manager for Maico Industries of Ellsworth, designer for Doonan Trailer Corp. of Great Bend, and engineering technician for Salina Vortex. He has worked as an automotive technician, truck driver, self-employed in remodeling, and volunteer firefighter.
Cunningham has an associate's degree in mechanical engineering technology from K-State Salina, truck driving certification from Southwest Missouri State and national firefighting certifications through Kansas University.
Certifications:
AAAE Airport Security Coordinator (ASC)