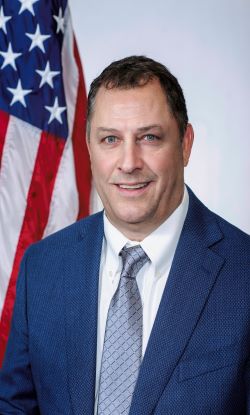 David Sorell
Manager of Operations
E-mail: davids@salair.org
As Manager of Operations, David Sorell is responsible for managing the operations, maintenance, aircraft rescue and firefighting, and security activities at the Salina Regional Airport and Salina Airport Industrial Center. He is responsible for FAR Part 139 and ensuring airport/industrial center compliance with federal, state and local regulations.
Sorell joins the Salina Airport Authority after a number of years with the State of Kansas DOFE Training Site in the maintenance department.  Prior to his time with the State, Sorell had multiple years of experience in the construction industry.
The Regional Airport is home to 17 commercial aviation businesses that offer a wide array of products and services to local, national and international customers and provides more than 550,000 square feet of available hangar space adjacent to a 12,300-foot runway.  Aviation and aerospace employers are supported by the Kansas State Polytechnic aviation program for workforce training & applied aviation research.
The Salina Airport Industrial Center is one of the nation's most progressive airport industrial parks.  More than 100 businesses and organizations at the Salina Airport Industrial Center employ more than 6,800 people.  The Salina Airport Industrial Center has been transformed from a former military base to a modern, urban industrial center.
Certifications
AAAE Airport Security Coordinator
AAAE Airport Safety and Operations Specialist
Tank Management Services (TMS) Underground Storage Tank Operator
USDA Wildlife Services - Wildlife Hazard Identification and Management
NATA Safety 1st – Fuel Safety Supervisor and Professional Line Services
KS Fire & Rescue Training Institute – Part 139 Airport Fire Fighter
Awards:
Safety Services Company (SS) Safety Recognition Award
Salina Army Aviation Support Facility Certification of Appreciation