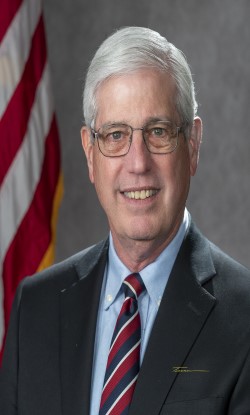 Timothy F. Rogers, A.A.E
Executive Director
E-mail: trogers@salair.org
As  Executive Director of the Salina Airport Authority since 1985,
Timothy F. Rogers, A.A.E. manages the successful and vibrant Salina Regional Airport and Salina Airport Industrial Center.  Known as America's Fuel Stop, the Salina Regional Airport is a familiar cross-country refueling location for more than 5,000 business jets each year.  Tim's leadership was also instrumental in Virgin Atlantic
Airways and Steve Fossett's selection of the Salina Regional Airport as mission control and the launch and landing site for the Virgin Atlantic Global Flyer's record setting flights.
In addition to supporting civilian aviation, the Salina Airport Authority is actively involved in military operations hosting more than 5,000 military operations annually.
In March 2010, Tim was awarded the first-ever Patriot Medal "for providing immeasurable support to the Great Plains Joint Training Center and Kansas National Guard."  Tim is currently a member of the Kansas Governor's Military Affairs Council, which has been charged with optimizing the military presence in Kansas, actively fostering close, effective cooperation among the installations and private and public sectors throughout the state, and pursuing initiatives to enhance the quality of life for all military personnel- active, veteran, and retired.
The Airport Industrial Center is home to the Kansas National Guard's Great Plains Joint Training Center Headquarters.  The GPJTC is affiliated with the Smoky Hill Weapons Range, Crisis City, the Kansas
Regional Training Institute and the 284th Air Support Operations Squadron. Tim works closely with many military units, including nearby Ft. Riley in supporting our nation's national defense efforts.
Tim was honored to receive the American Association of Executives Distinguished Service Award in March of 2012.The Distinguished Service Award is one of AAAE's highest levels of recognition. Men and women receive this award as a reflection of outstanding accomplishments in their professional and personal lives. Respected leaders of their own communities, these men and women also contribute to other aviation organizations, serve AAAE and its chapters and participate in civic and community affairs. DSA winners exemplify the best in airport management by continually bringing credit to the profession and the aviation community. All DSA winners are Accredited Airport Executives and exemplify the standards accreditation seeks to inspire, according to the AAAE website.
As an active member of the American Association of Airport Executives (AAAE), Tim has worked to promote the growth and development of the nation's system of airports.  Currently, Tim is the past chair of the American Association of Airport Executives' U.S. Contract Tower Association (USCTA) Policy Board.  The USCTA represents 253 airports with VFR control towers that participate in the FAA's
Contract Tower Program.  The program has received positive endorsements from all parties involved, including the FAA, NTSB, DOT Inspector General (IG), airport management, Congress and, most importantly, the users of the air traffic control system.
Tim Rogers has been in airport and industrial center management for over 30 years. He obtained a bachelor's degree from the University of Kansas.  Tim was designated an Accredited Airport Executive with the completion of an accreditation process administered by the American Association of Airport Executives.
The Salina Airport Industrial Center features a wide variety of manufacturing.  Schwan Food Service employs more than 1,400 employees.  Other major Airport Industrial Center firms include Salina Vortex, Geoprobe, GE, El Dorado National, FedEx, Universal Forest Products, United Suppliers and Ovation Cabinetry.  All industrial center businesses benefit from excellent airport services, interstate highway access and foreign trade zone status.  Rogers is active in facility development and real estate negotiations for existing and new businesses & industry.      
The Salina Regional Airport is home to 17 commercial aviation businesses that offer a wide array of products and services to local, national and international customers and provides more than 550,000 square feet of available hangar space adjacent to a 12,300-foot runway.  Aviation and aerospace employers are supported by the Kansas State Polytechnic aviation program for workforce training & applied aviation research. He has led the effort to add UAS operations, research and development to the Salina Airport.
The Salina Airport Industrial Center is one of the nation's most progressive airport industrial parks.  More than 100 businesses and organizations at the Salina Airport Industrial Center employ more than 6,800 people.  As a result of Tim's direction, the Salina Airport Industrial Center has been
transformed from a former military base to a modern, urban industrial center.
Tim's professional and volunteer boards include:  
National
American Association of Airport Executives Contract Tower Association Policy Board, Past Chairman
American Association of Airport Executives Board of Examiners, Past Board Member
American Association of Airport Executives Non-hub/General Aviation Airports Committee, Past Chairman
Regional
South Central Chapter of American Association of Airport Executives, Past President
South Central Chapter of the American Association of Airport Executives, Regional Examiner
State Government
Kansas Military Affairs Council, member
Kansas Unmanned Aerial Systems Workgroup, member