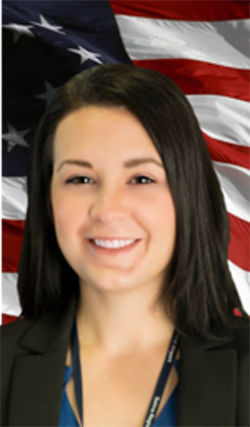 Kaycie Taylor
Administrative Assistant
E-mail: ktaylor@salair.org
As Administrative Assistant, Kaycie "KT" Taylor fills a vital role at the Salina Airport Authority.  Her attention to detail, organizational and customer service skills help to grow the vibrant and thriving Salina Regional Airport and Salina Airport Industrial Center. 
KT provides high-quality administrative support for the executive staff and first-class service to businesses, organizations and customers of the Salina Regional Airport.  KT effectively and efficiently deals with all manner of correspondence, prepares important documents, directs inquiries, and assists in day to day tasks of airport management.
KT came to the Salina Airport Authority in 2017 and brings with her several years of experience as an Administrative Assistant and Office Manager. Before joining the Airport Authority KT worked as a Veterinary Technician at a local Veterinary Clinic, and an Office Manager at a local business.
KT's administrative support has been instrumental in the growth of the Salina Regional Airport and Salina Airport Industrial Center.  
Certifications
Certified AAAE Airport Security Coordinator
Non-profit and civic leadership roles include:
Salina Area United Way Internal Coordinator
Project Salina Team Leader
SRL All Breed Dog Rescue Volunteer
Salina Public Library Volunteer
The Salina Airport Industrial Center is one of the nation's most progressive airport industrial parks.  More than 100 businesses and organizations at the Salina Airport Industrial Center employ more than 6,800 people.