From the XD's Desk: Great Lakes Airlines' Reliability Fuels Success
Since starting nonstop flights from Salina to Denver, CO in June 2016, Great Lakes has completed 98.75% of all scheduled flights. The airline's completion rate at Salina is outstanding when compared to the performance of other air carriers nationwide. Many communities are experiencing poor reliability and Great Lakes' excellent completion rate at Salina is an exception. Salina passengers are fortunate that Great Lakes management and employees are committed to safe and reliable air service.
Great Lakes also offers excellent on-time performance. A dedicated team of TSA officers and Great Lakes ticket counter agents strive to keep each scheduled flight "on time." The dedication to customer service makes boarding a flight from Salina to Denver and enjoyable experience.
My sincere appreciation to the Great Lakes employees and TSA officers who make Salina one of the best airports for safe, secure and reliable air service.
Salina Regional Airport & Airport Industrial Center

Three Selected for Salina Business Hall of Fame
KSAL
August 16, 2017
The Salina Business Hall of Fame will soon have three new members.
According to the Salina Area Chamber of Commerce, three prominent Salina business persons have been selected to be inducted into the 2017 class of the Salina Business Hall of Fame. They are: Arthur M. Claflin, Businessman, Banker, Philanthropist (Pioneer Category, 1858-1925); Dan Bolen, Businessman and Real Estate Developer (Historic Category, 1926-1975); and Tim Rogers, Executive Director, Salina Airport Authority (Contemporary Category 1976-present).
The induction ceremony will be held Monday, October 30, noon-1:30pm, at the Salina Country Club. General Richard Myers, President of Kansas State University, will be the featured speaker.
The Salina Business Hall of Fame was established by the Salina Area Chamber of Commerce in 2005. Its purpose is to recognize and honor Salina business leaders, both past and present, who have made extraordinary contributions to Salina, earned the respect of the local community and called attention to the Free Enterprise system and its value to our country and citizens in shaping Salina's way of life.
Each inductee will be recognized with a commemorative plaque. In addition, plaques honoring each inductee will be displayed at the Chamber office, 120 W. Ash. A biography of each inductee will be printed and distributed at the luncheon.

Update on Salina Regional Airport KSLN
Mike Straka, PhD, Hangar Network
In the
March 2015 issue
we described how the Salina Regional Airport was fashioned out of the remnants of Schilling Air Force Base, which was closed in 1965 and then deeded to the city via the surplus property act.
We noted that the loss of the base was a severe economic blow to the city, and its transformation into a renewed and thriving center of aviation excellence was the result of a long and arduous effort by civic and community leaders who, through their vision, determination, courage, and sweat, guided the project through its many hurdles.


The support of the Schilling Development Council (precursor to the Airport Authority), Kansas Power & Light, and the Salina Journal newspaper, were all instrumental in keeping the vision intact and efforts focused to move forward as the airport evolved into a force of attraction that brought together aviation, education, industry, and jobs.


Since our initial report was two years ago, we were interested to find out what's been happening at SLN. To do so we caught up with airport management intern Elliot Rogers, who provided a wealth of current information on operations, support services, business tenants, and overall economic activity generated by the airport and its industrial center.


Known as "America's fuel stop," Salina Airport's primary runway 17/35 is 12,300x150 feet and it, along with primary taxiways and parking apron area are capable of handling all large, heavy cargo and passenger aircraft. The C-130 Hercules, C-17 Globemaster, and C-5 Galaxy, as well as the civilian B-737 and B-747 all use the runway routinely.


SLN has 2.7 million square feet of ramp space along with an array of buildings available for lease at competitive rates. Hangars of various sizes suitable for both aircraft basing and MRO (maintenance, repair, and overhaul) operations are available, as well as landside and airside storage facilities. In addition, a number of prime land parcels are ready for development.


Aircraft, passenger, crew, and ancillary services are provided by Avflight Salina, one of its fifteen world-class FBO facilities offering a wide range of specialty handling and support for airlines, cargo, and large-scale military operations.


Great Lakes Airlines provides daily scheduled passenger service to Denver International (KDEN). The airport also serves as the Forward Operating Location (FOL) for military aviation units that deploy to Saline County, the Great Plains Joint Training Center, and the Kansas Regional Training Institute operated by the Kansas National Guard. With the Smoky Hill Weapons Range Restricted Area being in close proximity, SLN is an ideal location for the guard unit's training activities.

Salina Regional Airport reports record month
Rocky Robinson, Salina Post
June 1, 2017
A record number of passengers decided to "Fly Salina" last month. According to the Salina Airport Authority, Great Lakes Airlines boarded over 1,500 passengers on their non-stop flights to Denver International Airport from the Salina Regional Airport during the month of May.
Great Lakes has been offering these non-stop flights for almost a year now. Around 13,121 people have made the flight since the operation started. According to a press release from the Salina Airport Authority, the previous record was 1,465 passengers. That record was set in March.
"The one-way fare on Great Lakes is as low as $79 one-way," said Tim Rogers, Salina Airport Authority executive director. "Affordable fares in addition to the convenience of non-stop flights has made the Denver flights popular with North Central Kansas travelers."
Salina Airport Authority
With Denver flights filing up and a busy summer season ahead, Salina passengers are advised to make reservations early. The best fares and schedules are available by booking flights early. Also, plan to arrive at the Salina Airport early for your flight:
Arrive at the Salina Regional Airport at least 60 minutes prior to scheduled departure. Arriving 90 minutes prior to scheduled departure is recommended by the airline and TSA.
Early arrival at the airport is necessary for passenger check in, receiving a boarding pass, TSA screening of checked bags and clearing the TSA passenger screening check point.
All passengers should be in the secure area of the boarding gate 20 minutes prior to scheduled departure time to allow for on-time departures.
For reservations go to FlyGreatLakes.com. Additional passenger information is available at
www.flysalina.com
Fares are subject to availability, change and restrictions may apply.

Salina Students Place Second in National Competition
KSAL
Airport management and unmanned aircraft systems students from the Kansas State University Polytechnic Campus are receiving national recognition for their interdisciplinary research on a current airport industry challenge.
The Airport Cooperative Research Program, which is managed by the Transportation Research Board and sponsored by the Federal Aviation Administration, has selected the team of Kansas State Polytechnic students as second place winners in its annual University Design Competition for Addressing Airport Needs. The five students submitted a project examining an alternative to typical aerial data collection methods at airports titled, "Airport Imagery and Geospatial Data Collection Through the Use of UAS."
The contest, now in its 11th year, invites collegiate students from across the country to propose innovative designs and practical solutions to various airport issues facing the industry today. All of the proposals, which do not have to originate from an aviation-related degree program, were entered into one of four categories in the competition - Airport Operation and Maintenance, Runway Safety/Runway Incursions/Runway Excursions, Airport Environmental Interactions, and Airport Management and Planning - and awards went to the top three schools of each group. Kansas State Polytechnic took second in the Airport Operation and Maintenance category behind Tufts University.
"This is the first time that any K-State student has entered the ACRP competition, so taking home second place is quite an honor and it reflects strongly on our students' work ethic, ambitious ideas and ability to problem solve," said Tara Harl, airport management associate professor and option coordinator at Kansas State Polytechnic. "I think the award also demonstrates the caliber of rigor that the airport management and UAS curriculum provides, giving students the opportunity to engage in real-world projects and gain multiple perspectives by collaborating between majors."
The research project began when Harl and her counterpart in the UAS degree option decided to merge one of their upper level project-based courses so students could gain a better understanding of each other's fields of study and how they connect in industry. Four airport management students and one UAS student formed a team and decided to explore if unmanned aircraft are a viable supplement to an airport's current means of gathering aerial data.
Salina KHP Training Academy Offers Cadet program
A group of high school students got an opportunity to start their summer vacation by living the life of a Kansas State Trooper.
The Cadet Law Enforcement Academy program was held at the Salina Regional Airport on June 6, 2017. The event is hosted by the Kansas Highway Patrol Training Academy in Salina and sponsored by the American Legion and the American Legion Auxiliary.
Storage Igloos
Available
For Lease
Salina Regional Airport Tenants and Customers
Available Properties


Feature Facility
Hangar 504
The Salina Airport Authority has available for lease, a 5,617 sq. ft. hangar located at the Salina Regional Airport. Located in a great location on the field as well as easy access to I-135 & I-70.
Commonly known as Hangar 504, this well maintained facility features 3,647 sq. ft. of hangar bay (56.5' wide by 55" deep) and 1,970 sq. ft. of office space. Hangar doors provide 19' tail height clearance. Hangar 504 features two levels of office space which includes custom built desk and cabinetry located on the second floor.

On the Flightline at America's Fuel Stop
Flight instruction and aircraft rental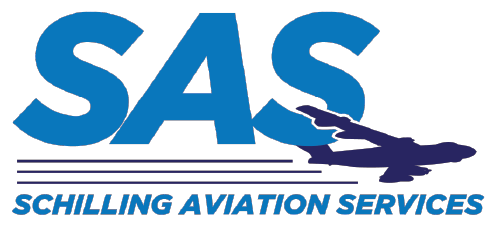 Schilling Aviation Services, 2010 Rogers Ct. now offers flight instruction and aircraft rental. SAS also offers full service airframe and powerplant inspection and maintenance.
For additional information, please contact Bob Pahls, Schilling Aviation Services (785) 404-6025.
Smoky Hill ANG Range Airspace
Operating frequency - 123.25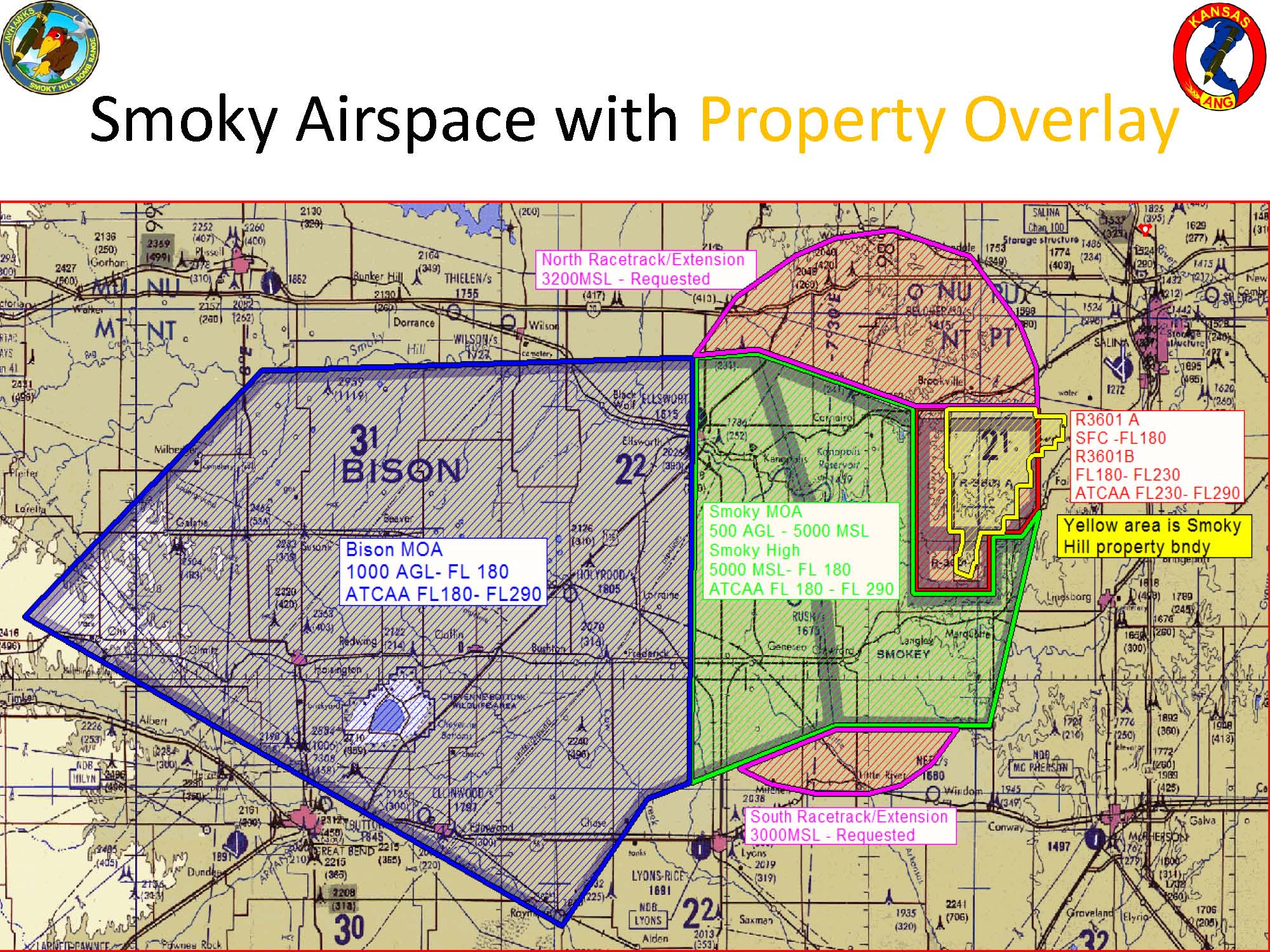 Be aware of military operating areas and restricted airspace.