From the XD's Desk: Ag Aircraft Operations at the Salina Airport
Agricultural aviation is an essential part of crop production in Kansas. Aerial application has become a critical part of today's precision agriculture practices and aids farmers in the production of food, fiber and biofuel. More than ever, farmers can use aerial application to maximize crop yields and benefit the environment.
Due to wet field conditions in the Salina this Spring, two aerial applicators have used the Salina Airport to assist farmers with weed, pest and dis
ease control. In a single day, an aerial applicator can fly and spray over 6,500 acres of farm ground. Both Crop Services Center, Inc; Abilene, KS and Houser Custom Ag Company; Solomon, KS operate from the Salina Airport to support their customers in the Salina area. The operators are welcome additions
the growing number of commercial aviation businesses at Salina.
| | |
| --- | --- |
| | |
| | Crop Services Center, Inc. |
To learn more about aerial application's growing role in the production of food, fiber, biofuel and with wildfire suppression go the National Agricultural Aviation Association website,
http://www.agaviation.org
.
Salina Regional Airport & Airport Industrial Center

Plaza will commemorate historic flight
Tim Horan, Salina Journal
April 19, 2017
Aviation history will be commemorated with a 16-foot sculpture, viewing area and storyboard at Salina Regional Airport, telling of Steve Fossett's nonstop, unrefueled flight around the world.
The Salina Airport Authority on Wednesday voted 6-0 to approve funding of up to $266,845 for Fossett Plaza, which will overlook the runway from which Fossett took off and landed in 2005.
Airport Authority Executive Director Tim Rogers said individuals and businesses made donations for the purpose of constructing a historical museum and historical monuments open to the public.
"Sufficient funds were raised to construct the Fossett Plaza," Rogers said.
Any museum or structure would be contingent on raising more money, he said.
"We have had, for a number of years, the idea to create a monument to commemorate the flight of the Virgin Atlantic GlobalFlyer and to memorialize Steve Fossett, who was the first pilot to fly solo nonstop around the world from Salina," Rogers said. "There was a need to also create a public viewing area, so we brought both ideas together."

Use of drones soars
| | |
| --- | --- |
| | |
| | Chris Scott, of Wilbur, N.C., recently pilots an unmanned aircraft at Kansas State University Polytechnic Campus. |
Tim Horan, Salina Journal
The sky truly is the limit when it comes to the future of unmanned aircraft systems.
"I don't see a real limitation down the road," said Kurt Barnhart, associate dean of research at Kansas State University Polytechnic Campus, who started the UAS program at the Salina campus in 2007. "The future of aviation is the future of unmanned aircraft. The two are merging at a pretty rapid pace."
And K-State Polytechnic is right at the heart of that merger. K-State students, faculty and staff are working with both public and private organizations to research and teach the use of unmanned aircraft.
"The implications and the ramifications are big because we will be able to stimulate the economy with new jobs," said Bob Brock, director of state of Kansas Unmanned Aircraft Systems. This training will create a new career path for Kansas graduates to be able to go out and do agricultural work, industrial work and work for KDOT itself."
The possibilities for unmanned aerial systems are endless and, if promoted effectively, could boost the Kansas economy, he said. A target is to create 3,700 new jobs by 2025.
"We can use them for road inspections, we can use them for power lines. We can inspect railways," said Brock, who served 22 years in the U.S. Air Force and commanded a large squadron of UAS while stationed in New Mexico.
"We can inspect crops to see they are properly irrigated. We will be able to find children who are lost in the state parks. We will be able to respond to tornado and flooding incidents, and provide aerial perspective that would require expensive helicopters. We see it as a lifesaving tool and an economic development tool."
Take your Daughters and Sons to Work Day
In partnership with the Transportation Security Administration, Great Lakes Airlines and Salina Airport Authority, the children of employees participated in the National bring your daughters and sons to work day at the Salina Regional Airport.
Schwan's Company Celebrates 65 Years
Schwan's Company announced today a year-long celebration of its 65th anniversary. The company was founded on March 18, 1952, when a 23-year-old Marvin Schwan loaded up 14 gallons of ice cream from the Schwan's Dairy into a road-weary Dodge panel van and began selling it to customers in rural Minnesota. Today, the foods of
Schwan's Company
can be found wherever consumers eat across the United States.
Since Marvin's first ride, the company has grown to become a leader in the frozen-food industry. Schwan's legacy home-delivery business delivers more than 300 delicious foods nationwide, its direct-to-store business offers trusted brands in grocery stores and other retail outlets, and its food-service business provides foods to venues such as schools, restaurants and convenience stores.
"I believe that Marvin Schwan would be proud that his entrepreneurial spirit still drives us today," said CEO Dimitrios Smyrnios. "We are committed to continue building on our legacy of making of high-quality, indulgent-to-wholesome food and driving innovation that will enable our company to grow in new and exciting ways. I'm proud of what our company and people have accomplished and excited about where Schwan's is heading with our employees, customers and consumers."
The company will celebrate its rich heritage throughout 2017 with company and product brand renovations, employee events, social media story-telling,
Schwan's Chef Collective
customer and consumer engagements, new charitable commitments, and by serving as a founding partner to the
2018 Minnesota Super Bowl Host Committee
.
Heritage


Throughout the company's history, it has relied on finding innovative ways to reach customers with its delicious foods and quality services.
In an archived speech about the start of the company, Marvin Schwan once told employees: "I wanted to make a living. I wanted to be successful. I noticed to the county north of here that ice cream was 14 cents a gallon higher than it was in Marshall (Minnesota); and I noticed farmers were starting to get home freezers. I thought, well, maybe farmers might buy ice cream right off the truck."
Paying attention to employees' ideas and monitoring consumer trends led to many other innovations throughout the years. Although the Schwan's home-delivery business in the early 1950s focused mainly on dairy products, Marvin began steadily adding items from other categories. Today, the company's home-delivery business, Schwan's Home Service, Inc., offers more than 300 foods on its website at
www.Schwans.com
.
Storage Igloo Now Available For Lease
Salina Regional Airport Tenants and Customers
Available Properties


Feature Facility
Hangar 509
The Salina Airport Authority has available for lease, a 45,500 sq. ft. hangar located at the Salina Regional Airport. Located in a great location on the field as well as easy access to I-135 & I-70.
Commonly knows as Hangar 509, this well maintained facility features 27,672 sq. ft. of hangar space and 17,860 sq. ft. ofoffice space. Sliding hangar doors provide 95 clear feet wide and 23 clear feet height. Hangar 509 is WiFi capable and served by new fiber optic cable.

On the Flightline at America's Fuel Stop
Rubber removal completed by Cillessen & Sons - Kechi, KS


Runway slurry seal completed by McConnell & Associates,Kansas City, MO
Taxiway Echo paving by APAC Kansas, Inc. - Salina, KS
Runway pavement markings by Salina Airport Authority staff
Runway 17/35 was reopened on May 9th after a 14 day closure for maintenance
Flight instruction and aircraft rental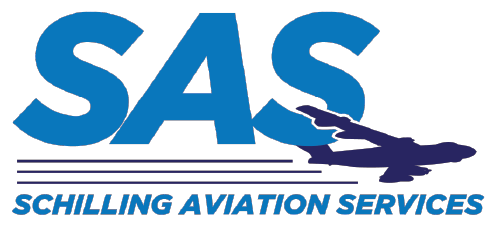 Schilling Aviation Services, 2010 Rogers Ct. now offers flight instruction and aircraft rental. SAS also offers full service airframe and powerplant inspection and maintenance.
For additional information, please contact Bob Pahls, Schilling Aviation Services (785) 404-6025.
Smoky Hill ANG Range Airspace
Operating frequency - 123.25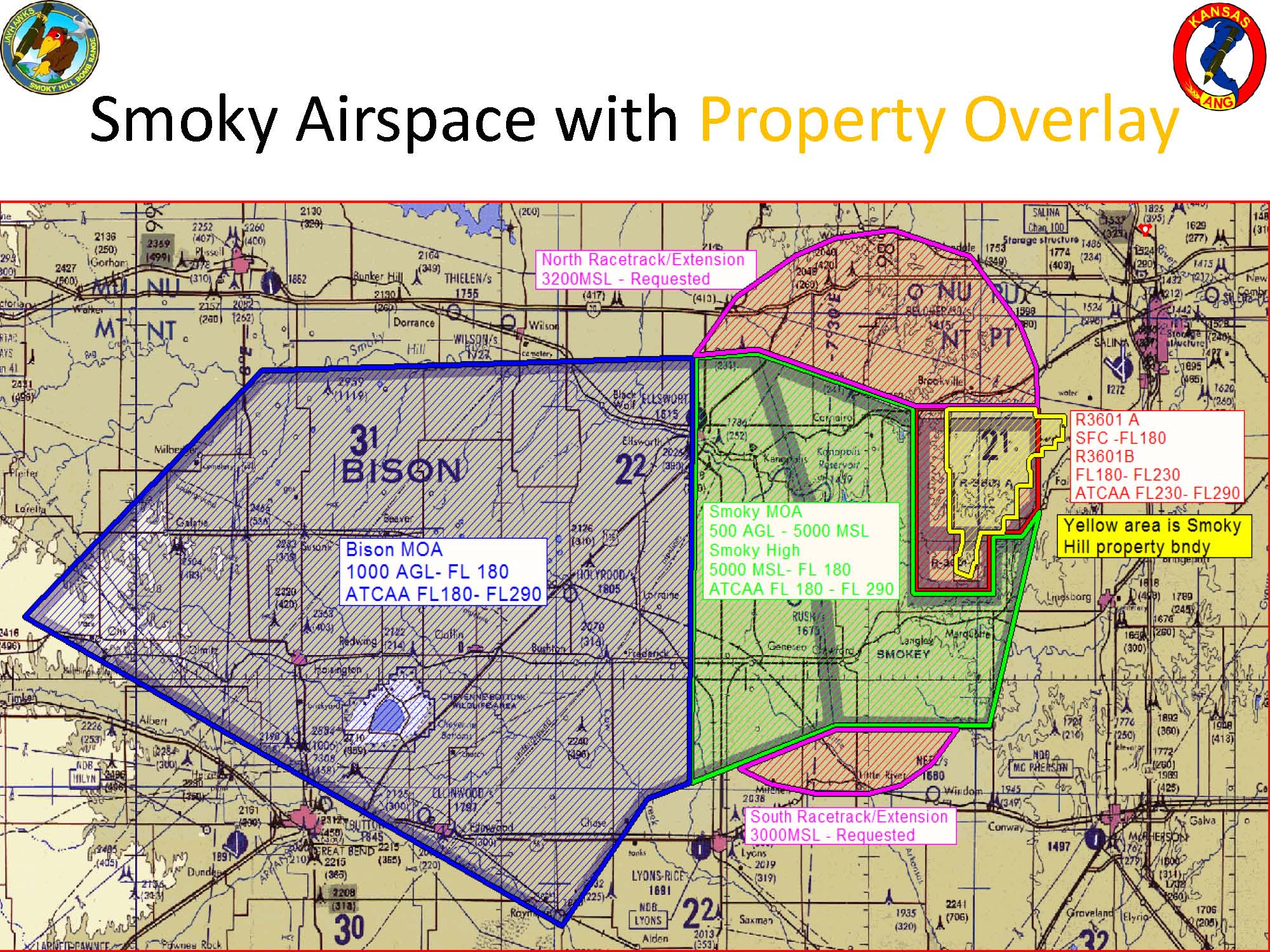 Be aware of military operating areas and restricted airspace.