From the XD's Desk: Military Training at the Salina Regional Airport
During this past February, U.S. military aviation units converged on the Salina Regional Airport and the Smoky Hill Weapons Range for two weeks of intense training during a Jaded Thunder exercise. Over 30 aircraft and 1,300 personnel participated in the event. Jaded Thunder resulted in a $3.4 million, direct economic impact on Salina. Military units leased 163,062 SF of hangar space, purchased over 400,000 gallons of jet fuel, occupied 818 hotels rooms and leased 140 rental cars. Over 15 local vendors provided goods and services in support of Jaded Thunder.
Beyond the economic impact, it is an honor and privilege to support U.S. military aviation units. The combination of the Salina Regional Airport and the adjacent Smoky Hill Weapons Range provides our U.S. military excellent training venues. All units that use the Salina Airport and the Smoky Hill Weapons Range are preparing to execute missions in the defense of the United States.
The skies over Salina will continue to be filled with military aircraft arriving and departing the Salina Airport. Their jet engine noise is, the sound of freedom.
Salina Regional Airport & Airport Industrial Center
Salina Airport to erect sculpture honoring Steve Fossett
Steve Fossett waves as he walks across the tarmac with his wife Peggy after landing at Salina Regional Airport on March 17, 2006. Fossett flew the GlobalFlyer aproximately 25,300 miles, breaking theabsolute closed-circuit record for a solo nonstop flight.
Eric Wiley, Salina Journal
A public viewing area which will include a 16-foot sculpture memorializing record-setting pilot Steve Fossett is set to be erected this fall by the Salina Airport Authority.
During Wednesday's Salina Airport Authority board meeting, Executive Director Tim Rogers said the viewing area will be constructed using money from an endowment and a construction fund with the Greater Salina Community Foundation.
Roughly $350,000 is available, with slightly more than $341,000 coming from the construction fund.
Fossett, a businessman and record-setting aviator, was the first person to fly nonstop around the world without refueling, taking off from the Salina airport on Feb. 28, 2005 in the GlobalFlyer and returning March 3. He also set multiple other aviation records in airplanes, gliders and balloons, as well as records in other sports.
He was killed in a plane crash in the Sierra Nevada Mountains in 2007.
Great Lakes Airlines Lowers Fares for Salina Flights
Great Lakes Airlines has posted new, affordable fares for nonstop flights from the Salina Regional Airport to the Denver International Airport.
Among the new fares is a new day of travel "walk-up" fare of $177.00 one way to Denver. The fare is available to travelers that need a low priced ticket for travel to Denver without being required to purchase the ticket in advance. The airline's lowest one-way fare is $79.00 and requires a seven-day advance purchase.
A full listing of the airline's schedule and fares for flights from Salina can be viewed at
www.flygreatlakes.com
.


Great Lakes' president, Chuck Howell, commented that "Salina has been an excellent, new market for Great Lakes. We have seen steady passenger growth each month and expect 2017 to be an excellent year for us. Remember that Great Lakes can get you to Denver for less than the price of an I-70 speeding ticket!"
Fares are subject to availability, change and restrictions may apply.

CityGo adds shuttle service to airport, Great Lakes flights
| | |
| --- | --- |
| | |
| | John Flanagan(left), CityGo supervisor Debbie Atkinson, OCCK tranpsortation coordinator, and Tim Rogers, Salina Airport Authority executive director, pose next to a CityGo bus at the Salina Regional Airport. |
Tim Unruh, Salina Journal
November 2, 2016
A pair of growing Salina transportation entities are set to begin helping each other flourish.
Starting Monday, OCCK, which operates CityGo transit service, will be available to pick up Great Lakes Airlines passengers anywhere within Salina's city limits and deliver them to the M.J. Kennedy Air Terminal on time to board 2:06 p.m. flights to Denver.
The shuttle will arrive at the airport by 12:30 p.m. Monday through Friday for the flight departing at 2:06 and can take passengers on return flights from Denver International Airport back into the city. Return flights are scheduled to land in Salina at 1:51 p.m. daily. Reservations are not required for shuttle return trips into Salina.
Shuttles will go to specific addresses and not to a general drop-off point.
"We will do that for now, but if we get really busy, we may have to look at that," said Debbie Atkinson, OCCK transportation coordinator.
The cost to ride either way is $2. Exact fares will be necessary, because drivers cannot make change.

TSA Recognizes Sheriff Deputy Rob Little
Saline County Sheriff's Office Prevention Deputy Rob Little was recognized for his outstanding commitment and assistance to the Transportation Security Administration (TSA) at the Salina Regional Airport. Little has served as the Saline County Sheriff's Office Prevention Deputy since September 2015, where he facilitates the D.A.R.E. and G.R.E.A.T. programs.
Soldiers, Airmen load out aircraft to support theater operations
in Salina
A solider from the 601st Aviation Support Battalion, 1st Combat Aviation Brigade, 1st Infantry Division, sits on top of a HH-60M medical evacuation helicopter as it is loaded into an Air Force C-5 Galaxy for transportation to Afghanistan July 13 at Salina Regional Airport. The Solider was responsible for minding the blades and ceiling of the C-5 to see that neither aircraft was damaged. A second Soldier was also perched on the tail of the helicopter

.
Season Osterfeld, 1ST INF. DIV. POST
Soldiers of the 601st Aviation Support Battalion, 1st Combat Aviation Brigade, 1st Infantry Division, worked together with Airmen of the 9th Airlift Wing out of McGuire Air Force Base in New Jersey to load HH-60M medevac helicopters onto an Air Force C-5 Galaxy July 13 at Salina Regional Airport, Salina, Kansas.
Nine HH-60Ms from the 2nd General Support Aviation Battalion, 1st Aviation Regiment, 1st Combat Aviation Brigade, 1st Infantry Division, were transported from Salina to Afghanistan using two C-5s and one C-17 Globemaster III in several phases. The C-5s are capable of transporting four helicopters at a time.
Staff Sgt. Aaron Westscott, 601st ASB, 1st CAB, 1st Inf. Div., said the HH-60Ms were flown out to Salina from Fort Riley where the Soldiers prepared them for transportation by securing parts and folding in the blades prior to loading them onto the aircraft. The preparation at Salina varied some from the Soldiers' previous training, but still went according to plan.
"It's a little different because we didn't do it at the location where the aircraft initially were, but the movement is going really smoothly in my opinion," Westscott said.
To prepare, Soldiers began training months ago and performing a number of different exercises to avoid mishaps, Lt. Col. Aaron McPeake, battalion commander for 601st ASB, 1st CAB, 1st Inf. Div., said.
"We've done a couple training exercises over the past couple months to prepared for this," McPeake said. "It's a very tough mission. It's a lot of precision, making sure you get all the parts and pieces into the proper position."
Through continued training, the Soldiers have also increased the time and perfected their technique in preparing and loading the aircraft for transport, McPeake said.
"The first one took about an hour and a half," McPeake said. "Now they are done anywhere between 40 and 50 minutes. It's like a NASCAR pit crew. They keep getting faster and faster."
Once the helicopters were prepared, Soldiers and Airmen worked together to load them onto the C-5 using a tether, pulley system and manual labor to carefully guide each aircraft into place. Two Soldiers were perched on top of the helicopter to mind the blades as they were moving through the plane.
Capt. Andrew Petefish, 601st ASB, 1st CAB, 1st Inf. Div., said the teamwork between the Soldiers and Airmen, not just while loading the aircraft but at all times, is vital to the success of the mission.
"We need them to deploy," Petefish said. "We're a joint environment right now, so anytime we can build relations with our partners is a good idea."
McPeake echoed Petefish's opinion and added the load out provided valuable experience for future operations for the Soldiers and Airmen involved.
"We're all one team, we have to work together," McPeake said. "We all wear the uniform. And it's a good opportunity for us to get some loading experience and we'll probably continue to do this over the next year."
While a majority of the preparation work was done at Fort Riley, the aircraft needed to be loaded at Salina due to the larger runway size available there, McPeake said.
Fort Riley makes use of many of the neighboring airports in Kansas, Scot Bird, Fort Riley installation transportation officer, said. Salina and Topeka are able to accommodate larger body aircraft and Manhattan can handle smaller body aircraft, putting Fort Riley in an advantageous position for operations.
"We can go any way we need to go for deployments," Bird said.
Bird said the use of Topeka, Manhattan and Salina airports comes from an initiative by the Kansas Governor's Military Council to provide support to military installations across Kansas.
McPeake said he appreciated the support of the Salina Regional Airport and emphasized the value of continued relations between Fort Riley and the neighboring airports.
"The Salina airport has been nothing but accommodating," McPeake said. "For us to be able to occupy a hangar, use this office, use the facilities, it's been absolutely fantastic."
Salina Regional Airport Tenants and Customers
Available Properties


Feature Facilities
Hangar 509, Hangar 600 and Hangar 606
The Salina Airport Authority has three hangars available for lease, over 163,000 sq. ft. hangar and office space located at the Salina Regional Airport. Located in a great location on the field as well as easy access to I-135 & I-70.
Hangar 509 features 45,532 sq. ft. of hangar and office space and underwent major rehabilitation in 2006.
Hangar 600 provides over 42,000 sq. ft. of hangar space and 26,256 sq. ft. of office space available. Hangar and office have WiFi installed and includes state of the art partial fire suppression system.
Hangar 606 offers 49,222 sq. ft. of space and underwent major rehabilitation in 2012. All three hangars are a perfect location for any business or regional jet, MRO or aircraft storage facility.

On the Flightline at America's Fuel Stop
Flight instruction and aircraft rental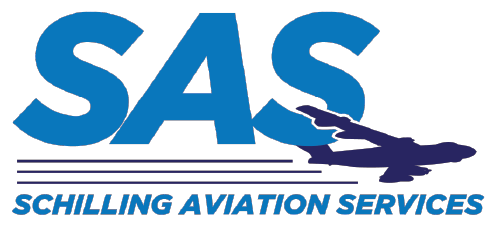 Schilling Aviation Services, 2010 Rogers Ct. now offers flight instruction and aircraft rental. SAS also offers full service airframe and powerplant inspection and maintenance.
For additional information, please contact Bob Pahls, Schilling Aviation Services (785) 404-6025.
Smoky Hill ANG Range Airspace
Operating frequency - 123.25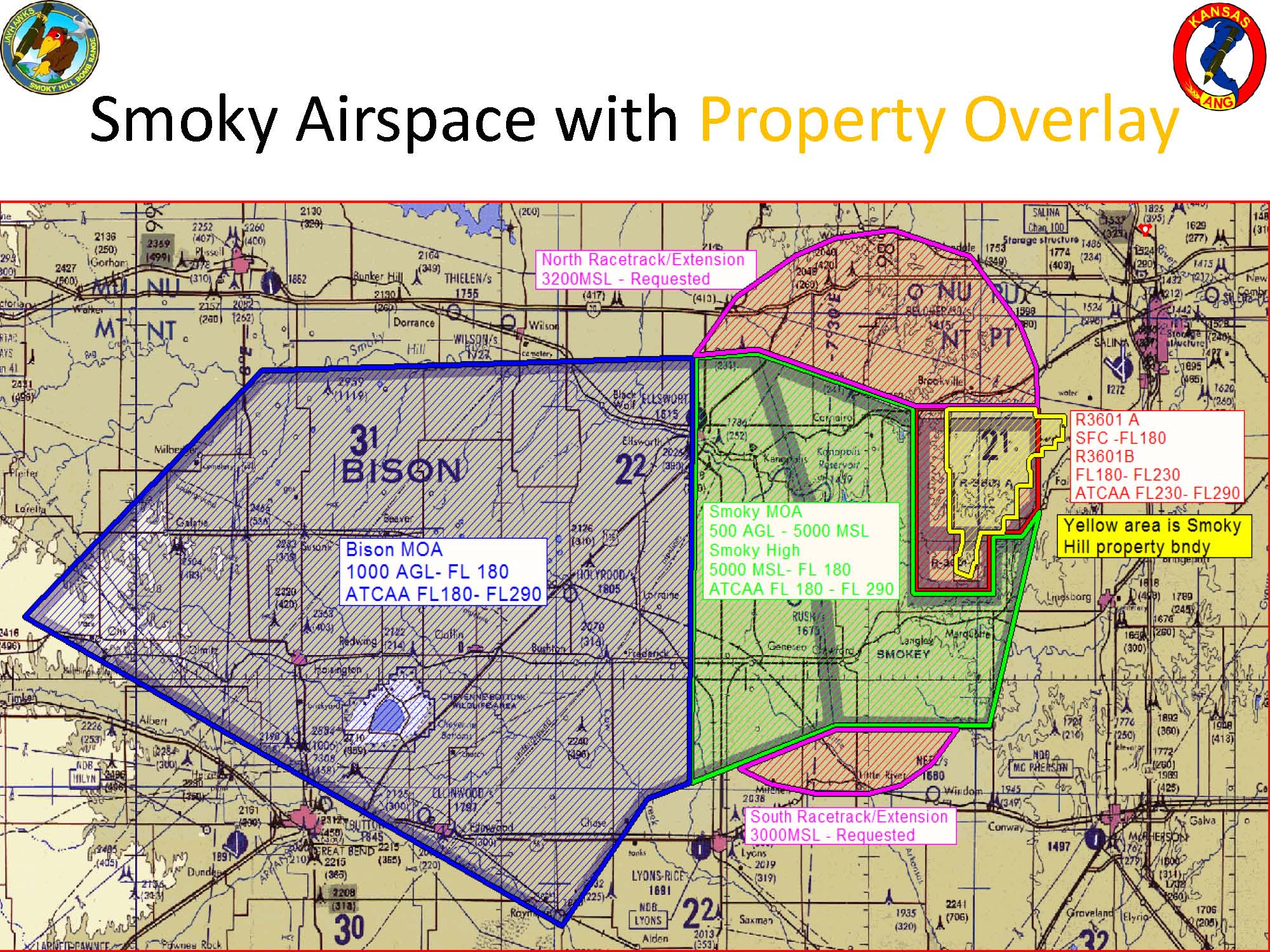 Be aware of military operating areas and restricted airspace.