From the XD's Desk: Fly Salina This Holiday Season
Holiday travel to and from Salina has become easier with nonstop flights to and from the Denver International Airport on Great Lakes Airlines. Remember to make reservations early in order to get the best fares and schedules. Your local travel agent can make booking a flights and other accommodations an easy task.
I hope that your holiday travel plans include Great Lakes Airlines and the Salina Regional Airport. You will discover that Great Lakes has "Great Connections to Great Destinations."
Salina Regional Airport & Airport Industrial Center
New life comes to Salina Terminal with Great Lakes flights to Denver
Photo: Tom Dorsey - Salina Journal
Tim Unruh - Salina Journal
An energetic tyke circled his parents and their luggage until an abrupt halt and a whisper in his father's ear, sent both toward the restroom.
They scurried past a group from Wichita- and McPherson-based Viega, a plumbing supply company, and Retha Wittlake, watching over the lobby, giving the attention of a sentinel while sharing small talk at the Great Lakes Airlines check-in counter.
At the door were three men enjoying a warm fall afternoon, with a two-thirds-full parking lot in their background.
Nearby, a glass door opened, and a woman in uniform announced that the Transportation Security Administration passenger screening area was open for the next flight west.
But there was no sense of urgency among less than 20 waiting passengers.
Americana was in full bloom Friday at the M.J. Kennedy Air Terminal, where a vibrant business, with a little help from Uncle Sam, and a warm embrace from Salina and destination Denver has brought life back to the south end of a 2-mile runway.
Fly Kansas Air Tour Visits the Polytechnic Campus
Wildcat Weekly
October 4, 2016
Salina, KS
The 2016 Fly Kansas Air Tour included Salina as one of its stops during the three-day journey across the state, and Kansas State Polytechnic was proud to have the pilots visit the campus.
On Sept. 30, the participants of Fly Kansas were given a tour of the Stevens Flight Center and the UAS Lab. They also got a chance to fly the simulators and watched a drone demonstration in the netted pavilion.
Whitney Alexander and Kelly McDonald, both seniors and CFIs in professional pilot program, joined in on the fun for the Salina to Topeka leg of the tour.
Thank you to all of the Kansas State Polytechnic faculty, staff and students who helped make the Salina stop of the 2016 Fly Kansas Air Tour a success.

FAA Bans Samsung Galaxy Note 7 Phones
The FAA Ban Applies to Salina Regional Airport Flights
Salina, KS (October 17, 2016)
- The FAA ban on the Samsung Galaxy Notes 7 phones applies to Great Lakes Airlines' flights from the Salina Regional Airport to the Denver International Airport. Individuals who own or possess a Samsung Galaxy Note 7 device may not transport the device on air carrier flights within the United States.



According to the FAA's October 10, 2016 emergency announcement, a Samsung Galaxy Note 7 device may not be transported by a passenger on their person, in checked bags or in carry-on bags.




For more information, owners of a Samsung Galaxy Note 7 phone can go to the website

https://www.cpsc.gov/

.



If you would like more information about this topic, please contact Tim Rogers at 785-827-3914 or email at
trogers@salair.org
.

Kansas State Polytechnic - Airport Planning Class Field Lab
Ryan Lorton, Project Manager with Colorado based Jviation led K-State Polytechnic airport management students on a tour of the Taxiway Echo rehabilitation project at the Salina Regional Airport. K-State Polytechnic offers a four year degree in airport management and uses the Salina Airport for field labs.
7 Wonders of Salina
The Salina Airport Authority was honored to have been selected by the students of Coronado Elementary as one of the 7 most wondrous places in Salina. Third grade students at Coronado Elementary took a tour of the fire trucks and SLN ARFF station on Tuesday, October 18th.
K-State Polytechnic receives $150,000 donation
Harold Campbell - Salina Journal
The Kansas State University Polytechnic Campus has received a $150,000 donation from Textron Aviation to help enlarge the Salina campus' certified flight instructor lab.
"The CFIs have been working with limited briefing space to do a proper job with pre- and post-flight briefings for their students," Bill Gross, K-State Polytechnic professor and chief pilot, said. "The added space will benefit the CFIs and, most importantly, the students."
The renovation of the CFI lab will allow it to act as a multifunctional space. In addition, it will be adjacent to the flight operations center, home to one of the longest runways in the country.
"We've had a long relationship with K-State and we look forward to deepening our ties as the school continues training the next generation," Doug May, Textron vice president of piston aircraft, said.
"T
he modernization of the CFI lab will not only provide a more functional learning environment and work space, it will be instrumental in the recruitment and retention of Kansas State Polytechnic students."
On the Flightline at America's Fuel Stop
Available Properties


Feature Facility - Hangar 506-2
The Salina Airport Authority has available for lease, a nearly 5,000 sq. ft. hangar and office space building located in the Salina Airport Industrial Center. Located near corporate neighbors that include the Schwan Food Company and easy access to several of Salina's larger employers including Salina Vortex, Eldorado National and GeoProbe Systems.
Commonly known as Hangar 506-2, this well maintained facility features a central location on the airfield as well as easy access to I-135 & I-70.

Flight instruction and aircraft rental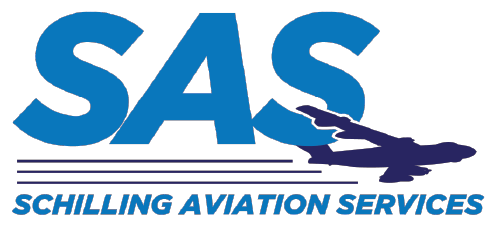 Schilling Aviation Services, 2010 Rogers Ct. now offers flight instruction and aircraft rental. SAS also offers full service airframe and powerplant inspection and maintenance.
For additional information, please contact Bob Pahls, Schilling Aviation Services (785) 404-6025.
Smoky Hill ANG Range Airspace
Operating frequency - 123.25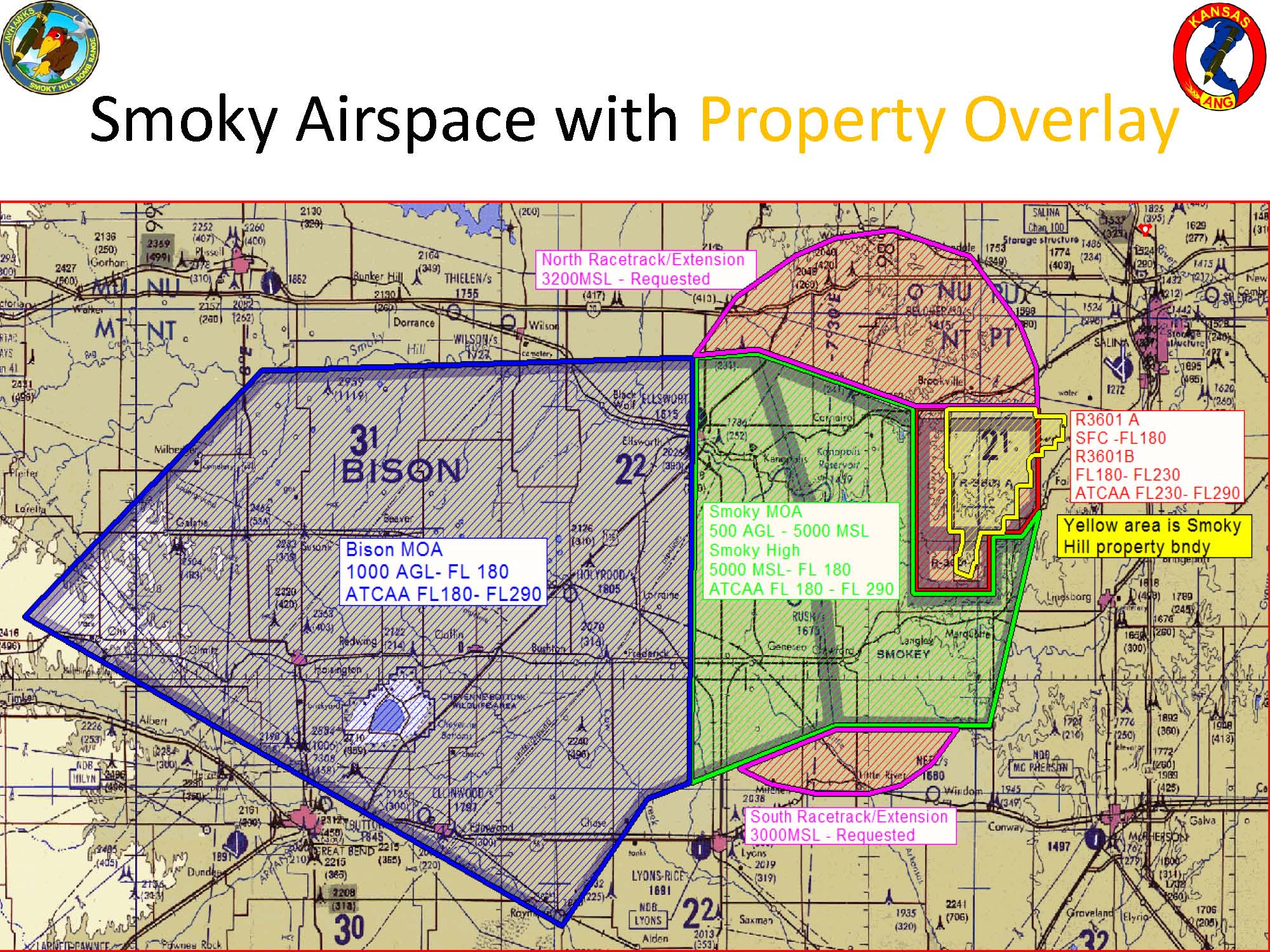 Be aware of military operating areas and restricted airspace.