From the XD's Desk: 9/11 We Will Never Forget
A large crowd gathered at the Salina Regional Airport's M.J. Kennedy Air Terminal on September 8, 2016 to commemorate the 15th anniversary of the devastating terrorist attacks that occurred on September 11, 2001. Representatives of the Salina Airport Authority, Great Lakes Airlines, the Transportation Security Administration, Salina Police Department, Salina Fire Department and Kansas Highway Patrol gathered to remember the victims and heroes of 9/11.
Salina Fire Chief, Kevin Royse recognized the loss of first responders that made the ultimate sacrifice on 9/11 "It's important that we take the time to remember that 343 firefighters and 60 police officers lost their lives by simply performing their sworn duty that day."

During the event, Jay Brainard, the TSA's Federal Security Director for Kansas unveiled the "We Shall Never Forget" sculpture that the TSA has installed in the lobby of the M.J. Kennedy Air Terminal.

Brainard stated that "this sculpture stands a memorial to all victims of the 9/11 terrorist attacks. The sculpture also stands as a reminder to all TSA, airport, airline, fire service and law enforcement personnel that we will never forget the need to protect our country from terrorist attack."


Airport Authority executive director read the following statement from U.S. Senator Jerry Moran (R-KS) who was unable to attend the commemoration event.

To all of the TSA, law enforcement and fire service personnel in attendance today: Thank you for your service and dedication to keeping our communities and our country safe. We recognize the burdens you and your family members shoulder and sacrifices you make on a daily basis, performing some of the most difficult and hazardous jobs in America. In Salina and all across Kansas, members of our law enforcement community are people we go to church with, who we see at our kids' activities at school, who we know personally and care for deeply. Thank you for your tireless work to protect all of us. You deserve nothing but our highest respect and gratitude.

The sculpture was designed and built by B & B Metal Arts of Hoisington, KS and contains a 24" section of a steel I-beam from the World Trade Center twin towers. The memorial consists of an American flag with 9 stars and eleven stripes representing 9/11. The World Trade Center twin towers are seen in the background. An American eagle representing freedom is perched on the steel I-beam. The top of the memorial is inscribed with the words "WE WILL NEVER FORGET."
KS Transportation Security Officers received the Oath of Office from the KS Federal Security Director Jay Brainard.
Salina Regional Airport & Airport Industrial Center

Swanson Honored by the Salina Airport Authority Board of Directors for 20 Years of Service
Shelli Swanson, C.M. was recognized by the Salina Airport Authority board of directors for her 20 years of service as Director of Administration and Finance. By a unanimous vote the board members approved a resolution citing Shelli's achievements.
The administration of over $25 million in Salina Regional Airport construction projects.
The administration of over $15 million in Salina Airport Industrial Center building construction and remodeling projects.
Managing the leasing activity for over 1.2 million square feet of Airport Authority buildings and hangars.
Achieving and maintaining Government Finance Officers Association excellence in financial reporting for the Airport Authority's Comprehensive Annual Financial Report.
Developing an industry leading Risk Management Program for all Airport Authority property, operations and development activity.
Providing leadership and mentoring for K-State Salina Polytechnic aviation program students.
Providing immeasurable support to U.S. military units deployed to the Salina Regional Airport.
Shelli currently serves on the Kansas Department of Transportation's Aviation Advisory Committee and was an integral part of the support team for the world record setting Steve Fossett in the Virgin Atlantic Global Flyer.

2016 Fly Kansas Air Tour scheduled to stop at SLN
The 2016 Fly Kansas Air Tour marks the continuation of an event that was first conducted in aviation's Golden Era from the 1930's. After a long hiatus, a commemorative tour was held in 2008; and the tour has since been enjoying a revival that started in 2014. History provides a backdrop for this year's event, stopping at airports that are plenty proud or their origins in World War II, and their contributions to our nation...like Great Bend with B-29 training, also in Salina, which started as the Smoky Hill Army Air Field--one of the first bases for the Strategic Air Command (as Schilling AFB) when the Air Force was created; so, enjoy a landing on SLN's 12,300' runway!
We'll mix in some things new: visiting Scott City to experience their Red Bird simulator; visiting the newest business-class airport in Kansas at Rooks County, featuring a 5,000' concrete runway and self-serve fuel, now adding aviation's benefits to rural northwest Kansas. And we'll talk about unmanned aircraft systems--aviation's new horizon--at SLN.
Launching from Wellington, the first overnight stop is in Dodge City, then in Salina on Day 2. For Day 3, the tour visits Topeka Regional and the Combat Air Museum for a little more history from Forbes Field, ending in Newton with the EAA. We hope to see y'all flyin'...join us for any leg or the whole tour! We'll engage students and teachers to talk about the STEM curriculum (Science, Technology, Engineering & Math), along with the community residents to share in aviation truly "having something for everyone!"
Interstates to open Salina Office
July 25, 2016
SIOUX CENTER, Iowa
Interstates Construction Services, Inc. is pleased to announce that it has officially launched a new regional office to serve Central Kansas and the surrounding areas. The office is located in Salina.
Doug Coltharp is the Regional Manager for this office.
"The Kansas office will allow us to better serve our current customers," said Doug Brunsting, Interstates' Director of Regional Offices, "while providing opportunities for us to build relationships with new customers as well."
Interstates Construction specializes in the installation of electrical systems for industrial clients. Interstates Engineering and Interstates Control Systems are sister companies of Interstates Construction. Together, they offer full service design-build electrical contracting, engineering, automation, business intelligence and Manufacturing IT services on a worldwide basis. The corporate headquarters are located in Sioux Center, Iowa, with additional regional offices in Sioux Falls, South Dakota; Omaha, Nebraska; Fort Collins, Colorado; Brainerd, Minnesota; and Cincinnati, Ohio. For more information, visit
www.interstates.com
.
Kansas State Polytechnic Begins Aviation Technology Competitions
Todd Pittenger - KSAL
Kansas State University's
Polytechnic Campus in Salina
has joined with a Kansas-based company to launch three technology competitions that seek ways to improve the safety of flying drones, help pilots pass their color vision test, and aid NASA's search to find life in the solar system.
Kansas State Polytechnic is working with
HiddenGenius.com
, an online community that creates competitions to develop technologies that improve the world.
The work by HiddenGenius.com and its CEO, Trevor McKeeman, is being supported by Kansas State University through the
Institute for Commercialization
. The company is based in Manhattan, but has employees and advisors in eight time zones.
On the Flightline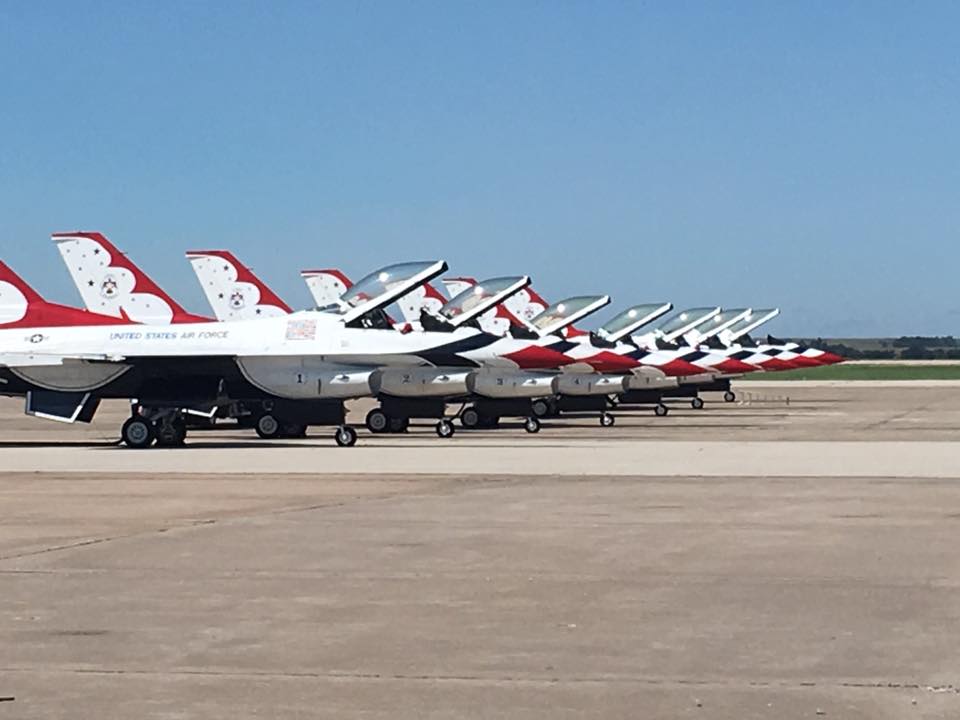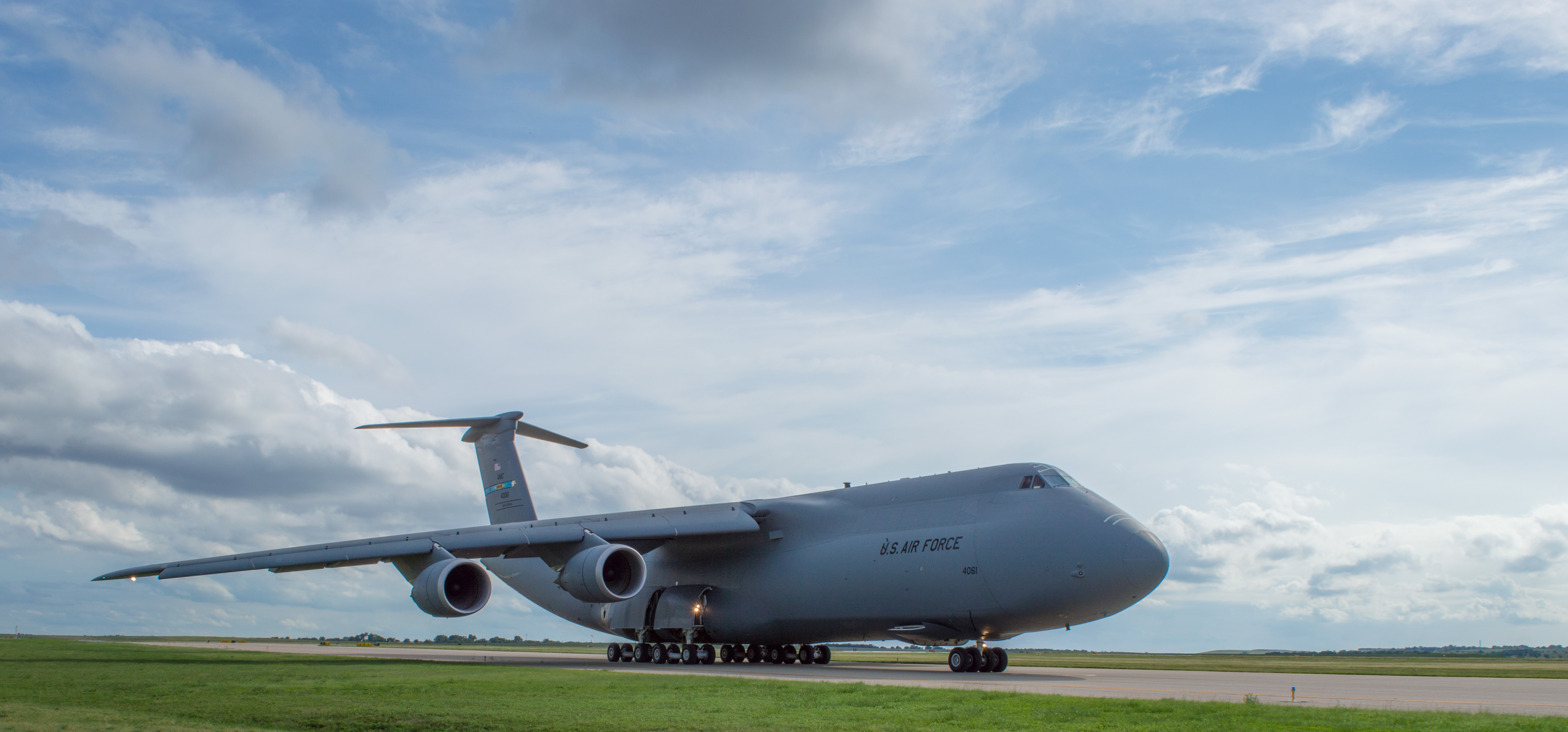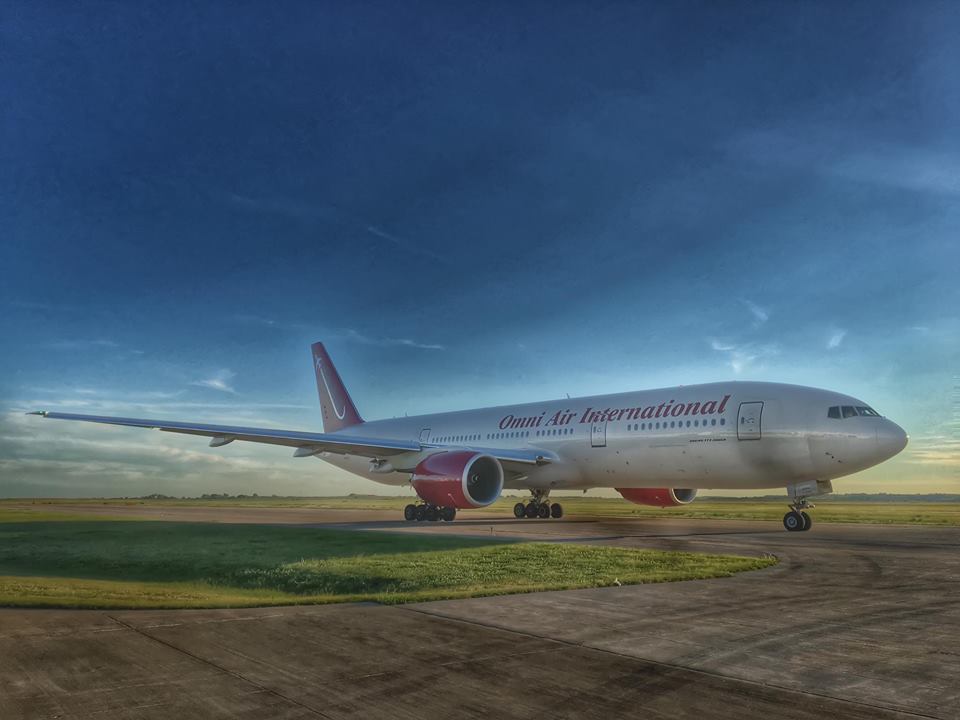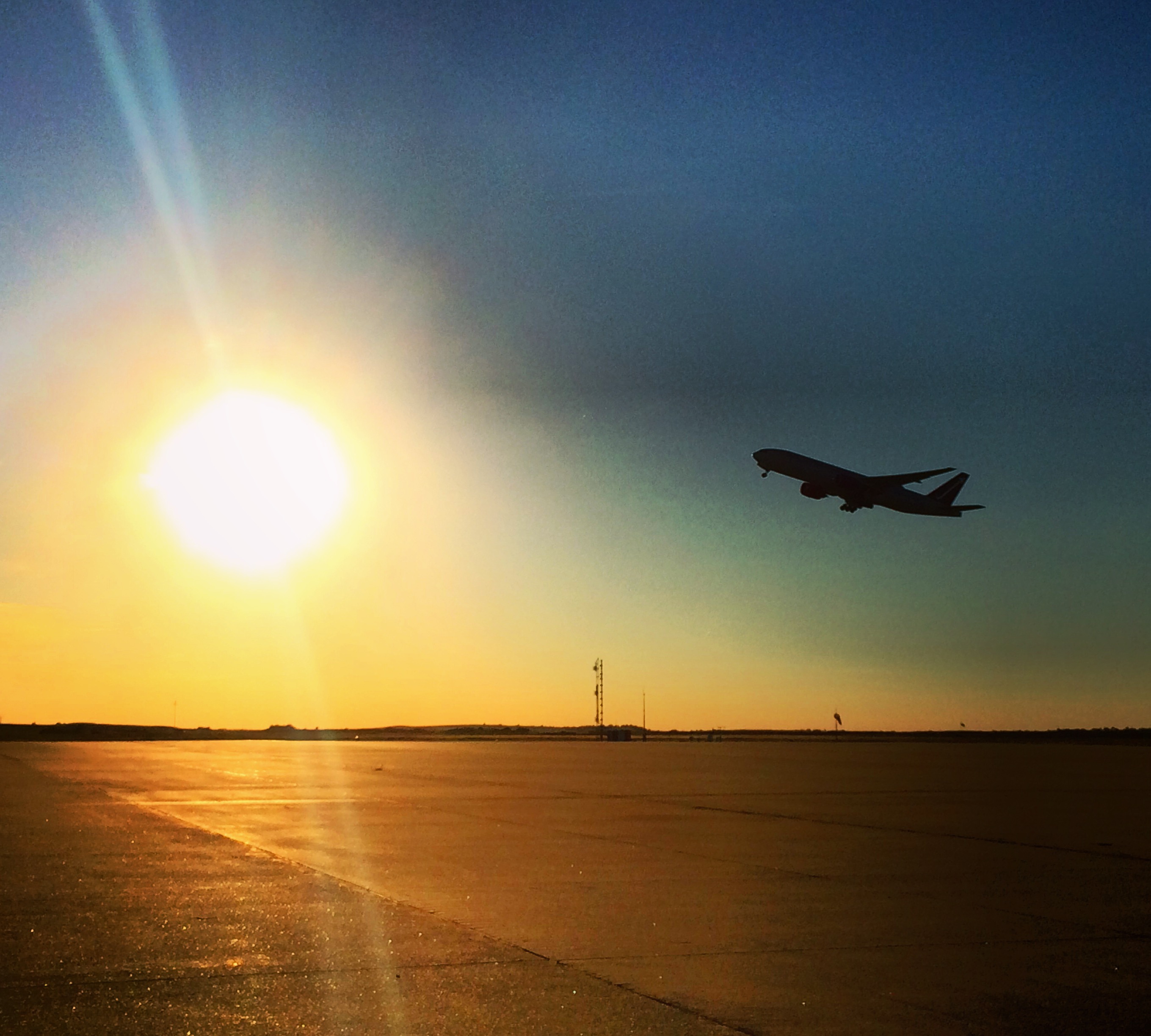 Available Properties


Feature Facility
Bldg. 412 is a unique, multi-functional facility that includes office, warehouse and industrial space and could be easily modified to create more or less of each type of space. Interior non-load bearing walls can be removed to create larger spaces. Previously used as an electronics manufacturing facility and most recently as a military training facility. The climate controlled shop/warehouse/assembly space lends itself to multi-purpose utilization. With existing drop ceilings, the facility could easily accomodate a large professional services business with a need for offices and work rooms of varying size.
Located in the heart of the Salina Airport Industrial Center, within 1/2 mile of the M.J. Kennedy Air Terminal Bldg. offering multiple non-stop daily air service to Denver International Airport.

Flight instruction and aircraft rental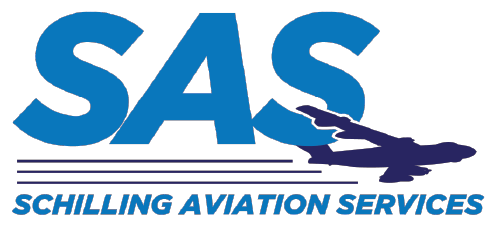 The Salina Airport Authority is excited to announce that Schilling Aviation Services, 2010 Rogers Ct. now offers flight instruction and aircraft rental.
For additional information, please contact Bob Pahls, Schilling Aviation Services (785) 404-6025.
Smoky Hill ANG Range Airspace
Operating frequency - 123.25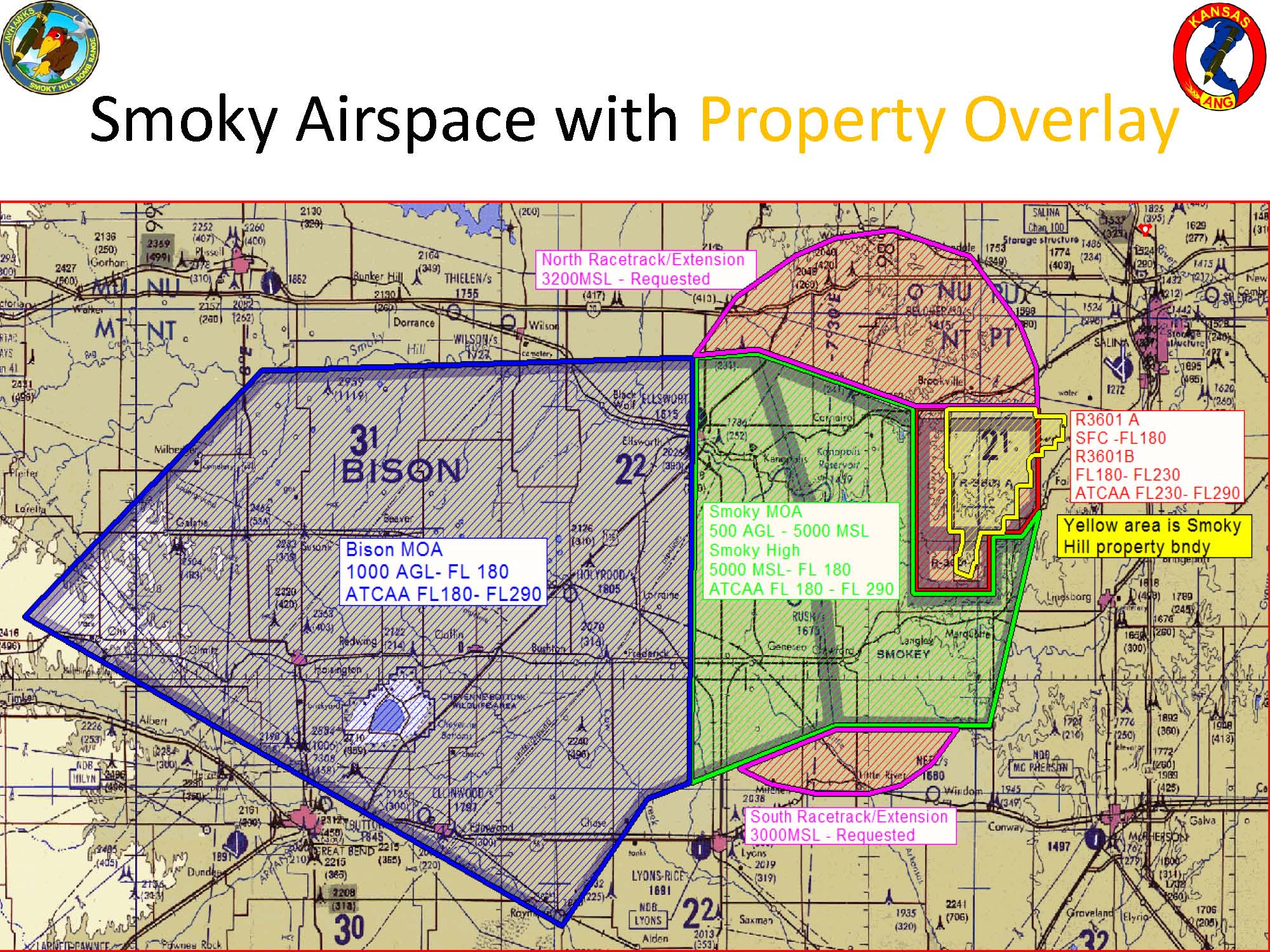 Be aware of military operating areas and restricted airspace.