From the XD's Desk: Congratulations Kansas Erosion Products

Kansas Erosion Products is the newest business at the Salina Airport Industrial Center and has moved into the Airport Authority's building B1021.
The company will use wheat straw purchased from area wheat producers to manufacture soil erosion blankets and wattles. The blankets and wattles will be distributed throughout the country to meet the growing demand for soil erosion prevention and control. Kansas Erosion Products joins over 100 businesses and organizations that have a presence at the Salina Regional Airport and Airport Industrial Center.
Kansas Erosion Products is locally owned and a welcomed addition. The Salina Airport Authority looks forward to supporting the company's future growth.
Tim Rogers, A.A.E.
Executive Director
Salina Airport Authority
Salina Regional Airport

NASA takes to the Kansas skies to study nighttime thunderstorms
NASA has joined a multi-agency field campaign studying summer storm systems in the U.S. Great Plains to find out why they often form after the sun goes down instead of during the heat of the day.
The Plains Elevated Convection at Night, or PECAN, project began June 1 and continues through mid-July. Participants from eight research laboratories and 14 universities are collecting storm data to find out how and why they form. NASA's DC-8 airborne laboratory began research flights Tuesday from the Salina Regional Airport, Salina, Kansas.
"We're hoping to collect measurements that will be used to characterize the atmosphere ahead of these storms," said Richard Ferrare, senior research scientist in the Atmospheric Sciences Division at NASA's Langley Research Center, Hampton, Virginia. "If we can map the water vapor that goes into these storms, we'll be able to improve computer models that represent these conditions and better predict the storms."
The
NASA DC-8
and National Oceanic and Atmospheric Administration (NOAA) P-3 Orion research aircraft supporting the PECAN mission will be open to the media from 3 to 5 p.m. CDT on Saturday, July 11, at the Salina Regional Airport. The airport is located at 3237 Arnold Avenue.
Unlike other parts of the United States, summer thunderstorms across the Great Plains are most common after sunset. Much of the rain comes from medium-size weather systems and resulting thunderstorms known as mesoscale convective systems. These nighttime storms can produce heavy rainfall that contributes a significant portion of the yearly precipitation in the region.
Scientists understand that thunderstorms that form during the day result from a vertical "convective" circulation driven by rising warm air from the heated Earth's surface and falling air cooled at higher latitudes in the atmosphere. Less well understood are the mechanisms that cause thunderstorms after the sun has gone down and the land surface has cooled.
The DC-8 carries atmospheric science instruments and investigators from Langley; NASA's Jet Propulsion Laboratory, Pasadena, California; and several universities and research labs. NASA's Goddard Space Flight Center in Greenbelt, Maryland, is providing a ground-based Doppler radar system.
PECAN is funded by the National Science Foundation with additional support from NASA, the National Oceanic and Atmospheric Administration (NOAA), the National Center for Atmospheric Research in Boulder, Colorado, and the Department of Energy.
In addition to the NASA and NOAA aircraft, researchers will receive data from a University of Wyoming King Air plane, ground-based instruments, weather balloons and mobile radars. Storm information will continue to be gathered from multiple agency ground and air instruments across northern Oklahoma, central Kansas, and south-central Nebraska through July.The DC-8 is based at NASA's Armstrong Flight Research Facility in Palmdale, California, and supports NASA's
Airborne Science Program
under the Science Mission Directorate. The extended range, prolonged flight-duration capability, large payload capacity, and laboratory environment of the DC-8 make it one of the premier aircraft available for
NASA Earth science investigations.
NASA researchers collect and study data from space, air, land and sea to tackle challenges facing the world today, including improved environmental prediction and natural hazard and climate change preparedness. NASA develops new ways to observe and study Earth's interconnected natural systems with long-term data records. The agency freely shares this unique knowledge and works with institutions around the world to gain new insights into how our planet is changing.

Salina welcomes Kansas Erosion Products to Airport Industrial Center
A building once used by the Kansas Army National Guard to overhaul and rebuild military trailers is being put to a much different use. At the May board meeting, the Salina Airport Authority's board of directors approved a lease for Kansas Erosion Products, L.L.C., to occupy a portion of Building 1021 (3600 Airport Rd) to use as a soil erosion control blanket and wattle manufacturing plant.
Delivery of the first pieces of equipment began in June.
Kansas Erosion Products (KEP) is owned and operated by Salina and Salina County residents and will initially employ 13 people full time at an annual payroll in excess of $360,000.
"We are pleased to welcome another business to the diverse and ever-expanding Salina Airport Industrial Center," said Tim Rogers, A.A.E., the Salina Airport Authority's executive director.
Erosion control blankets and wattles are manufactured by stitching an organic fiber material such as straw to a polypropylene or jute netting. They are used to control or reduce slope and channel erosion by mechanically stabilizing base soil from erosion caused by rainfall and storm water runoff. They also provide improved growing conditions for post construction restoration work as required by federal, state and local environmental regulations. KEP will work with area wheat producers for the purchase of wheat straw to be used in the blanket and wattle construction.
Commercial buildings, residential lots, highways, bridges, utility line projects, agricultural land terracing, airports, pipeline construction and environmental remediation all can require soil erosion control.
"It is good to see a new business come to Salina," said Mike Hoppock, the Salina Airport Authority's board chairman. "I appreciate the way we were able to 'stair step' the lease. You want a startup company to be successful. You don't want to burden them."
KEP is occupying 34,863 square feet of the 68,380- square-foot building and will pay a basic rent of $902,078 for the primary term of 75 and one half months. For the first three and a half months the basic rent installment will be $0. Immediately following the first three and one half months, monthly base rent will increase at six month increments to $7,844, $9,587, $10,459, $12,057 and finally $13,800 over the following 72 months. In addition to the monthly base rent, KEP will be responsible for property taxes, commercial property insurance and utilities.
The building was left in good condition enabling the company to move into the facility "as is" with minimal prep costs to the Airport Authority.
The Airport Authority, City of Salina, Saline County, Salina Area Chamber of Commerce, Kansas Department of Commerce and the North Central Regional Planning Commission worked in an economic development partnership to bring the company to Salina.
"This is another example of how numerous entities come together to make these things happen," said Hoppock. "We thank you for your work."
Meeting Industry demands: K-State Salina expands unmanned aircraft systems program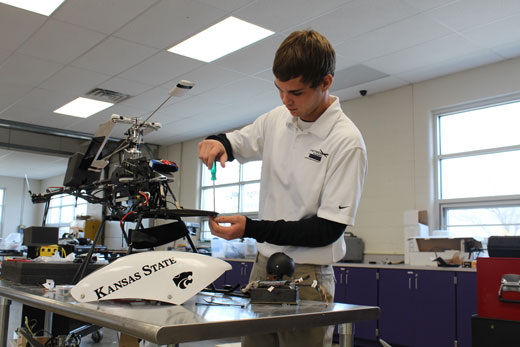 With the unmanned aircraft systems, or UAS, industry growing at a rapid pace, Kansas State University Salina is meeting career demands with the addition of a new bachelor's degree and minor beginning this fall.
Combining UAS, commonly known as drones, technology with coursework in computer science, electronic engineering and mechanical engineering, K-State Salina is offering a Bachelor of Science in engineering technology with an unmanned aircraft systems option. The new course of study complements the already existing aeronautical technology bachelor's degree in UAS, which is centered around piloting and field operations, by concentrating on the design and implementation of unmanned systems. The university also is adding a UAS minor with both a flight operations focus and a data acquisition and management focus. Doctoral-level faculty members are leading the program.
"K-State Salina is known for being at the forefront of unmanned aircraft systems education and research, and our innovative engineering technology reputation spans 50 years, starting with the creation of our campus," said Verna Fitzsimmons, K-State Salina's dean and CEO. "This hybrid degree, which incorporates principles from both programs, is a practical addition to our academic offerings and an essential addition for the UAS industry.
Tischlerei brings engineering to every job
A new enclosed positive pressure finishing room features a large Global Finishing Solutions booth that is 16 feet wide.

Tischlerei Fine Woodworking brings engineering to every job, working with their dealers and the final customer to give them what they want.

The Salina, Kansas, company makes high-end custom casework and millwork, but it's also a production shop.

"We go past basic cabinetry to incorporate additional mouldings on the cabinets, to engineer these, to achieve a specific design, pre-plan installation, and to have few minimal field joints and visible joints," says company owner Olaf Gerhardt. "Plus, we provide personalized service to our clients and dealers to ensure that their designs are fully understood and produced."

Customers are almost all residential, and Tischlerei works with kitchen and bath dealers and interior designers. Most customers are in Midwest, especially Colorado, Illinois, Nebraska and Kansas, but the company has shipped coast to coast.

By the book

Although work is custom, Tischlerei goes by the book - their own detailed specification manual that is often the starting point for an order.

Work is normally submitted as drawings and an itemized list. The specification manual includes all of the cabinet configurations and modification options and contains hundreds of detailed drawings showing box construction, moulding specs and door styles and options, with a wide variety of standard configurations.

"When it comes to modifications, we definitely excel," Gerhardt said. "For a small company like ours it's a sophisticated manual that we give our dealers."



Sharp Performance Youth Camps and Events
1st-8th Grades (to be) Football Camp will begin at 6:00 P.M. and end at 9:00 P.M. July 17th, it will begin at 8:00 A.M. and end at 11:00 A.M. July 18th.
Greensburg Youth Football Camp
1st-8th Grade (to be) Football Camp will begin at 6:00 P.M. and end at 9:00 P.M. June 12th, it will begin at 8:00 A.M. and end at 11:00 A.M. June 13th.
Sharp Performance Baseball Showcase
The Sharp Performance Baseball Showcase is the final opportunity of the summer for athletes to get verified test results and position specific evaluations.
The Sharp Performance Last Chance Combine is the final opportunity of the summer for athletes to get verified test results in the 40yd Dash, Vertical Jump, Pro Agility, MB Toss, Bench Reps, and Broad Jump. Height and Weight will also be recorded.
Schwan's Fourth of July Schedule
Sign up for SeaPort deals and promotions
SeaPort Airlines regularly offers great deals and promotions, ranging from fare sales to partnerships with local organizations in the communities that we serve. Check this page often for the latest information, or better yet, sign up to get timely communications about special offers and our latest news.