Fort Riley: We Can Get There From Here
From the XD's Desk: Congratulations UAS Kansas

Over seven years ago, Salina provided the Kansas State University Salina UAS Program Office a $100,000 economic development grant. In 2010 an additional $200,000 grant was approved and enabled the program office to sustain its growth. The Salina community support was made with the anticipation that K-State and Kansas would take and maintain the lead in the development of unmanned aircraft for agricultural, first responder and commercial uses. These uses of unmanned aircraft will fuel future aviation industry growth in Kansas.
Salina's support has been rewarded by the recent announcement that K-State is a member of the prestigious FAA Center of Excellence for Unmanned Aircraft Systems. K-State joins Wichita State University and the University of Kansas as members of the FAA Center of Excellence. The Center of Excellence team (ASSURE) will be led by Mississippi State University and includes 16 other leading universities that offer unmatched research and development capabilities.
Kansas is clearly at the forefront of efforts to fully develop unmanned aircraft for a wide variety of commercial uses. Numerous individuals and institutions are to be congratulated for their vision and efforts to position K-State, Wichita State and KU for success.
You can learn more about ASSURE at http://www.assureuas.org.
Tim Rogers, A.A.E.
Executive Director
Salina Airport Authority
Salina Regional Airport

Kansas universities awarded new FAA Center of Excellence designation
Three Kansas universities are members of the new Federal Aviation Administration Center of Excellence for Unmanned Aircraft Systems, which was awarded by the U.S. Department of Transportation in Washington, D.C., recently.
Wichita State University, Kansas State University and the University of Kansas are members of the new center known as the Alliance for System Safety of UAS through Research Excellence, or ASSURE, which will play a key role in helping the FAA develop rules regulating commercial unmanned aerial systems. ASSURE, which will be led by Mississippi State University, will provide the FAA and industry with research to maximize the potential of commercial unmanned systems with minimal changes to the current system regulating manned aircraft.
Congress appropriated $5 million for the five-year agreement with the center, which will be matched one-for-one by the team members. The FAA expects the center will be able to begin research by September and be fully operational and engaged in a robust research agenda by January 2016.
Each Kansas university brings a special set of resources and capabilities to the ASSURE team.

NOAA scientists tackle mystery of nighttime thunderstorms
Researchers armed with more than 100 scientific instruments will spend the summer probing nighttime thunderstorms on the Great Plains.
Kansas State University, community partners cut
ribbon on Bulk Solids Innovation Center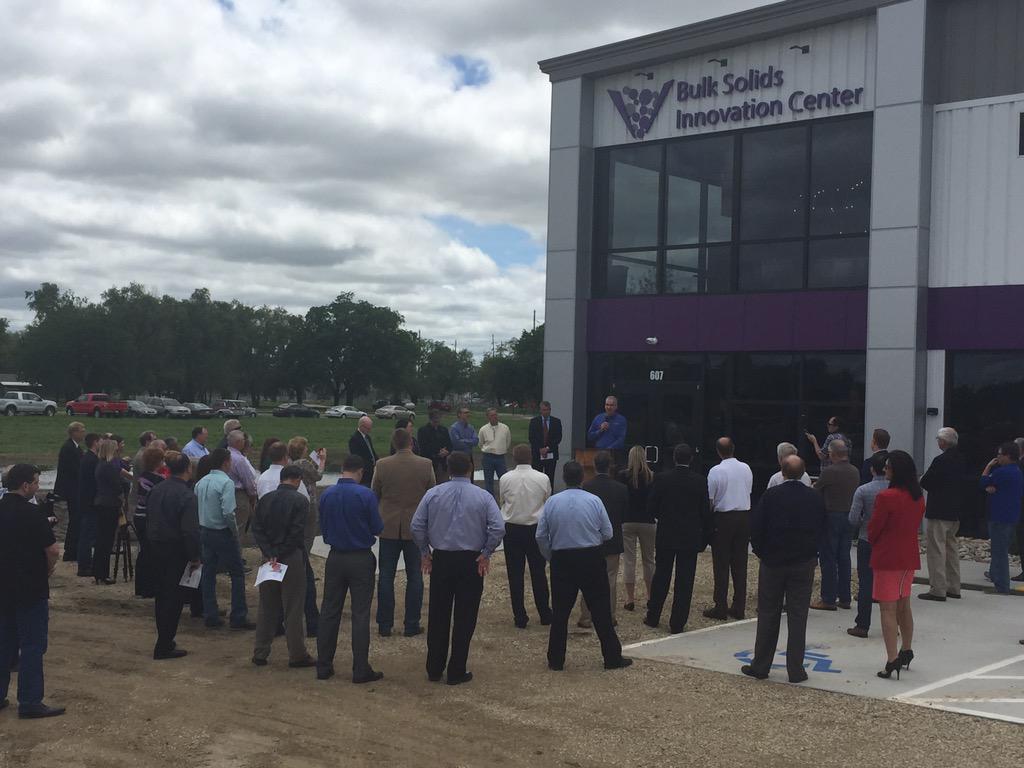 After breaking ground on the project less than a year ago, the Kansas State University Bulk Solids Innovation Center will celebrated its grand opening with a purple ribbon-cutting ceremony , May 14.

The two-story, 13,000-square-foot facility is the only one of its kind in North America and will be used to study the science and understanding of bulk solids materials handling - loose, dry commodities like sugar, minerals, pigments and recycled plastics that account for more than 80 percent of items transported around the world. The innovation center houses six laboratories for university and industry-sponsored research; training and education, conference and lecture rooms; a material properties test lab; and a full-scale bulk solids test bay. After the ribbon-cutting ceremony, all of these features will be available for viewing during walking tours of the space.

Kansas State University is the key tenant in the center, while two local companies, Coperion K-Tron Salina and Vortex Valves, supplement the facility by serving as anchor occupants. University-level courses associated with bulk solids as well as professional development courses for industry professionals will be taught onsite, and students will assist with research projects as outside companies partner with the center to conduct product testing. In addition, it complements the College of Agriculture's Bulk Solids and Particle Technology Lab and program housed on the Manhattan campus.
FHSU to complete economic impact study of airport, airport industrial center
The Salina Airport Authority has contracted with the Fort Hays State University Docking Institute of Public Affairs to complete an economic impact study report.

"An updated economic impact study documents the economic contributions of the airport and airport industrial center to the Salina area," explained Tim Rogers, A.A.E., the Airport Authority's executive director. "An economic impact study also provides supporting data and justifications for future capital improvements."
The Docking Institute will use the IMPLAN study model to document the value of current users of the former Schilling Air Force Base in promoting a healthy city, county and regional economy by measuring the economic contributions of the business and organizations, their employees, students, service members and visitors. IMPLAN uses the most current data sets and multipliers and has the flexibility to incorporate data from the over 100 businesses located at the Salina Regional Airport and Salina Airport Industrial Center.
"Staff has already begun the data collection phase of the study," said Shelli Swanson, C.M., the Airport Authority's director of administration and finance. "Questionnaires are already being returned by airport and airport industrial center businesses and organizations. Our goal is to have 100 percent of the responses by June 15."
The board of directors accepted the $11,750 proposal at the May board meeting. A 2015 economic impact study will complete the airport master plan update process. The Airport Authority's 2015 capital budget will be adjusted to allow for the cost of the study without an increase in the total budget for 2015 capital expenditures.
Salina Public Entities meet to discuss Schilling Project
Jason Gage, City of Salina city manager; Dr. Verna Fitzsimmons, Kansas State University Salina CEO; Rita Diester, Saline County administrator; Greg Bengston of Clark, Mize and Linville, Chartered, legal counsel for the group; and Tim Rogers, A.A.E., Salina Airport Authority executive director meet to discuss the progress of clean up efforts at the former Schilling Air Force Base.
The group of CEOs are joined by representatives of Dragun Corp. either in person or via conference call each month to track progress, discuss next steps and keep tabs on the remedial investigation phase of the project.
Sign up for SeaPort deals and promotions
SeaPort Airlines regularly offers great deals and promotions, ranging from fare sales to partnerships with local organizations in the communities that we serve. Check this page often for the latest information, or better yet, sign up to get timely communications about special offers and our latest news.