Fort Riley: We Can Get There From Here
From the XD's Desk: Flying the Santa Fe Trail

This month I had the pleasure of meeting members of the Santa Fe Trail Association who attended an association workshop here in Salina. The association is dedicated to preserving the history of the Santa Fe Trail which was one of our nation's first routes that supported western expansion.
Many years ago a Denver, Colo. based pilot, Ed Calahan handed me a set of air charts and trail maps of the Santa Fe Trail that he had prepared. Ed's message to pilots was simple - climb into the cockpit and fly our historic trials and imagine the adventure, excitement, romance and danger found on routes such as the Santa Fe Trail. Ed's charts provide a pilot the navigation fixes, landmarks and information needed to enjoy flying the Trail in a manner never imagined by the west bound settlers.
PDF copies of Ed's Santa Fe Trail charts can be viewed on our website. For more information on the Santa Fe Trail Association you can go to http://www.santafetrail.org. From either the air or the ground, the Santa Fe Trail is still waiting to be explored by young and old alike.
Tim Rogers, A.A.E.
Executive Director
Salina Airport Authority
Salina Regional Airport

K-State Salina selected by Textron Aviation as partner in Top Hawk program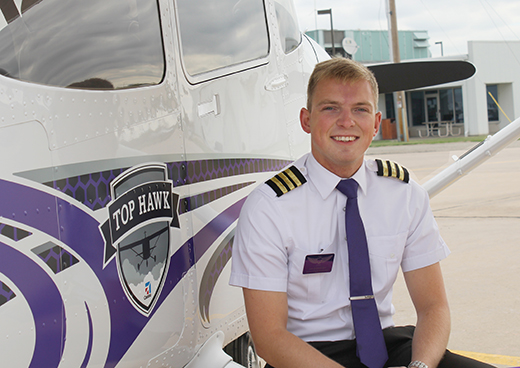 K-State Salina professional pilot senior Ian Barnhart will represent the university in Textron Aviation's' Top Hawk program.
Kansas State University Salina will add to its piloting amenities after being chosen by Textron Aviation as a partner school in its inaugural Top Hawk program. K-State Salina is one of only four universities in the nation to be selected for participation.
Through the Top Hawk program, K-State Salina is given full use of a Cessna Skyhawk 172 aircraft, branded with the university's Powercat, for the remainder of 2015. This aircraft is considered the world standard for pilot training. K-State Salina students will be able to take advantage of its modern features, including the G1000 avionics system.
In addition, one student from each of the four chosen universities is given the opportunity to intern with Textron Aviation this summer, gaining exposure to business operations, leading ground school classes and continuing to build flight hours through flying lessons and discovery flights. At the end of the summer, those interns will compete against one another in a flying challenge, through which one aviator will be named Top Hawk.
"It's such an honor to be able to represent K-State Salina in the program," said Ian Barnhart, senior in professional pilot, Lancaster, Pennsylvania. "The Top Hawk experience will provide me with valuable learning and networking opportunities that will help build my career as well as benefit other K-State Salina students who will train in the amazing Cessna Skyhawk 172."

SALINA, Kan.- The 1st Infantry Division's 2nd Armored Brigade Combat Team did something unprecedented for a unit from Fort Riley on March 12.


For the first time, with the help of the Air Force's 433rd Airlift Wing out of Joint Base San Antonio-Lackland, Fort Riley transported an M1A1/2 Abrams main battle tank from Fort Riley to the National Training Center in California on a Lockheed C-5 Galaxy in a short amount of time.
"The emergency deployment readiness exercise is really to show that even though we are an Armored Brigade Combat Team, we still have rapid deploy capability," said Capt. Brian Kossler, commander of Company D, 1st Battalion, 18th Infantry Regiment, 2nd ABCT, 1st Inf. Div.
The EDRE was part of the beginning phase in deploying 2nd ABCT to NTC and could be a game-changer for not only the Dagger Brigade but for all units training and deploying from Fort Riley, Kansas.

"The EDRE shows that even though Fort Riley and the 1st Infantry Division are in the middle of the country, we can still get where we need to be and get in the fight quickly," Kossler said.
Moran advocates for Ft. Riley
WASHINGTON - U.S. Senator Jerry Moran (R-Kan.), a member of the Senate Appropriations Subcommittee for Defense, held briefings at the Pentagon today with his Military and Veterans Advisory Committee. Sen. Moran and his advisory committee - which is made up of Kansans who are either retired military leaders or civilians with insight and expertise in military and veterans' issues - met with Secretary of the Army John M. McHugh and several Assistant Secretaries to discuss all-things Army in Kansas including the future of Fort Riley. Following the briefings, Sen. Moran held a conference call to share what was discussed at the Pentagon.
"Fort Riley was the primary topic of conversation during our productive meeting at the Pentagon today given the Army is assessing potential force reductions at military installations across the country as a result of the Budget Control Act of 2011," Sen. Moran said. "I am pleased to report that the Army has a clear understanding of the military value at Fort Riley in training space, deploying capability and supporting the American soldier with an excellent quality of life.
KWU president tours airfield, Sharp Performance
Jake Sharp entertains (left to right) Daniel Moss, President Thomspon, Tim Rogers and Bill Grevas at the Hangar Indoor Sport Complex.

Daniel Moss, Salina Airport Authority public relations intern, lead Kansas Wesleyan University President Dr. Matt Thompson and Vice President for Institutional Advancement Bill Grevas on a tour of the Salina Airport Authority, April 27. The group stopped at the contract air traffic control tower and Sharp Performance, a circa WWII aircraft hangar transformed into a high-level fitness training facility.
The Salina Airport Authority enjoys a mutually beneficial internship program with K-State Salina and Kansas Wesleyan University.
New BonAppetit pizza brand gives food lovers a grown up taste
Bon Appetit(TM) Mozzarella & Pesto Pizza features a tangy basil pesto, sliced mozzarella and cherry tomatoes. (Photo: Business Wire)
MINNEAPOLIS--(
BUSINESS WIRE
)--In the rush of life, people often resort to just putting food on the table - but mealtimes are meant to be so much more - a time to reconnect, to give appreciation and to savor what's good in life. Now, Schwan's Consumer Brands, Inc. brings this experience to food lovers across the country with the launch of its new
Bon App?tit?
specialty pizza brand, with a thin, artisan crust and flavorful ingredients that pair perfectly with a glass of wine and a salad.
"Meals should be moments that matter, especially for those who appreciate fine food and the good times in life. Bon App?tit? thin crust pizza is crafted for the consumer who wants to connect and linger over a delicious meal at home. This is truly a great pizza," says Kevin McAdams, president of Schwan's Consumer Brands.
The new, high-quality pizza appeals to sophisticated tastes, featuring flavorful high-quality ingredients such as tangy basil pesto, sliced mozzarella and halved cherry tomatoes, resulting in a more upscale flavor profile. The 10-inch size makes Bon App?tit? pizza ideal for a variety of eating occasions, from girls' night in, to book-club gatherings, grilling out and more, while delivering great value.
Sign up for SeaPort deals and promotions
SeaPort Airlines regularly offers great deals and promotions, ranging from fare sales to partnerships with local organizations in the communities that we serve. Check this page often for the latest information, or better yet, sign up to get timely communications about special offers and our latest news.